June 22, 2020
Make coffee like a pro at home!
Coffee time is an integral part of Greek culture, it's not just a habit but a kind of daily ritual. This is not about the coffee per se but it has to do with the joy of gathering with friends and family.
Coffee and Greek summer go hand in hand.
How to order a greek coffee in greek:
Thelo enan kafe (I want a coffee)
Sketo: plain, (no sugar at all),
metrio: medium (one teaspoon of sugar),
glyko: sweet (two spoons of sugar),
vary glyko: sweet and strong (two spoons of coffee and two spoons of sugar)
When the borders re-open you will enjoy your iced coffee next to the sea, at Kathisma or at Agios Nikitas but until then you can prepare your favourite beverage at home.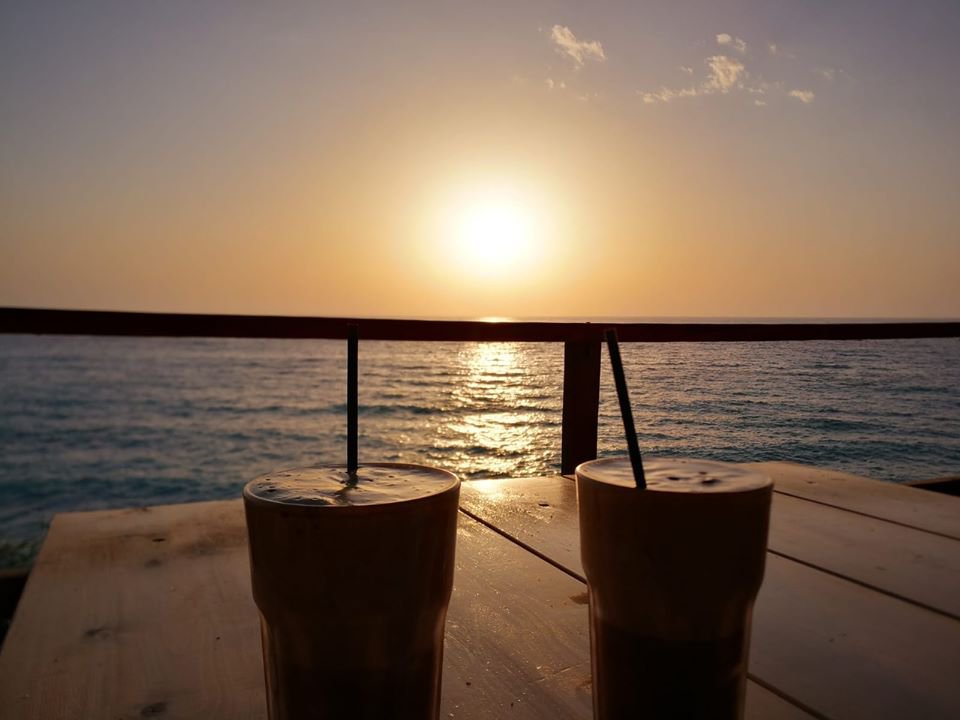 Frappé is a very popular Greek beverage. Actually it is a foam-covered iced coffee drink made from instant coffee (generally spray-dried), sugar, ice cubes and water. Frappé means 'shaken' and was invented in 1957 by Dimitris Vakondios during the International Trade Fair in Thessaloniki. Dimitris Vakondios was an employee of the representative of the Nestlé company who during his break tried to have his usual instant coffee but he couldn't find hot water, so he mixed the coffee with ice cubes and cold water in a shaker.
How to make frappé
You will need
a cocktail shaker or an appropriate hand mixer or a jar with a tight-fitting lid
1 teaspoon of instant coffee
4 ice cubes
1 cup of cold water
sugar (optional)
a straw
evaporated milk (optional)
You have to add 3 tablespoons of cold water, the instant coffee and the sugar to your shaker. You shake, shake, shake for 15 seconds. Then you pour the foam into the water glass, you add more water, the ice cubes, the milk and stir. After that, you drink your beverage with the straw.
Freddo
espresso or cappuccino version
Freddo means 'cold' so freddo espresso is actually the cold version of espresso coffee.
How to make freddo espresso
make a double espresso
blend the coffee and the sugar for 10 seconds
Then add 3-4 ice cubes into the mixture and blend it for 5 seconds (you shouldn't blend it continuously because here you don't want to create foam as in the frappe).
add 2-3 ice cubes to a glass
add your mixture
Freddo cappuccino is actually a freddo espresso with a creamy foam layered on top.
If you prefer the freddo cappuccino version then you have to make all the above steps and one more.
You will need cold full fat milk chilled to 3–5°C
Put 3-4 ice cubes in a glass and pour enough milk to cover the ice cubes. Then use a hand mixer. Add your cream it to freddo espresso. You can add some cinnamon or grated chocolate and a straw.
Enjoy!