June 23, 2020
Apart from the world renown and multi-awarded Porto Katsiki beach, Lefkada has a plethora of amazing beaches that will take your breath away.
Perhaps one of the principal reasons that many travellers choose to visit Lefkada is the island's perfect beaches. Whatever type of beach you're looking for, you're sure to find it in the island, so it comes as no surprise that Lefkada is a famous vacation destination for beach and watersports lovers. Ηere are some recommendations on the best water experiences to have when you visit the island.
Just relax (not for adrenaline junkies)
Sunscreen, towel & your book
What's summer without a whole day at the beach? For you doing absolutely nothing is synonymous with dream vacation and when you are on the beach, you just want to hear the sound of the waves and just relax. And that makes total sense. Here you are!
Apart from the world renown and multi-awarded Porto Katsiki beach, Lefkada has a plethora of amazing beaches that will take your breath away. Relax on the powdery sands of Egkremnoi beach, admire the unique landscape of Agios Nikitas, tote a picnic basket and spend the day on Gialos beach. If you prefer a remote oasis then choose Gyra, Myloi, Ammousa, Dessimi or Pefkoulia; these beaches are usually not crowded and you can savor the shore without much company. You should definitely visit Mylos, a beach that can be characterised as little slice of paradise and is just a 15-minute walk from Agios Nikitas (if you want avoid walking you can also go there by boat). Do not miss to visit Kathisma, an amazing beach that could be ranked among the best beaches in Europe. Ιts warm sand, amazing waters, are awaiting you.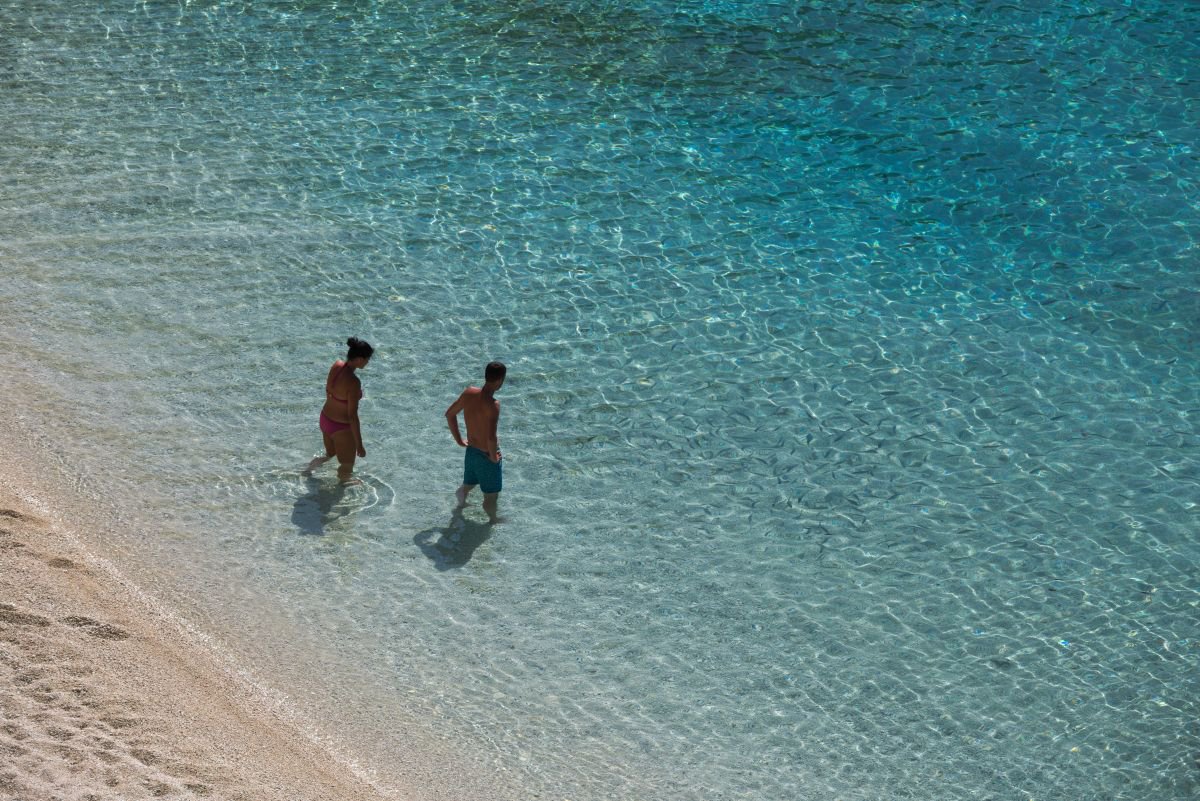 Kite and wind surf holidays (a little bit of adrenaline rush)
Are you itching for an adventure? Well, welcome to Lefkada, the top destination for adventure lovers. It doesn't matter what level you're, if you love kitesurfing one thing is unquestionable: nothing compares to the feeling of harnessing the power of the wind to ride. Ai Giannis and Myloi very close to the town of Lefkada and cover a distance of 4,5 km. There you don't need to even check the forecast because it's always windy. Oh yes! From April to September thermal wind blows there every single day. You can ditch your wetsuit and head off for an epic adventure. And after a long day on the water, you can enjoy a fresh fruit cocktail or a delicious meal at Tilegrafos cafe-bar restaurant, a beloved dining spot in Ai Giannis.
For windsurfers, Vassiliki seems to have been created by gods. The landscape is magnificent, the sea is clear enough here to see straight to the bottom and the weather conditions for windsurfing in the bay are ideal. Mornings with the gentle, light breeze and the calm, flat sea are suitable especially for beginners and youngsters while in the afternoon wind direction changes and this wind phenomenon, also known as Eric, is ideal for advanced windsurfers. Are you looking for a wind surf center in Vassiliki to rent, buy equipment or take lessons and ride like a pro? We have two options for you: Wildwind Adventures and Human Sports. In both centers you will find experienced and motivated instructors who use modern well serviced equipment and are ready to teach you all the secrets of the sport. Let's get wet!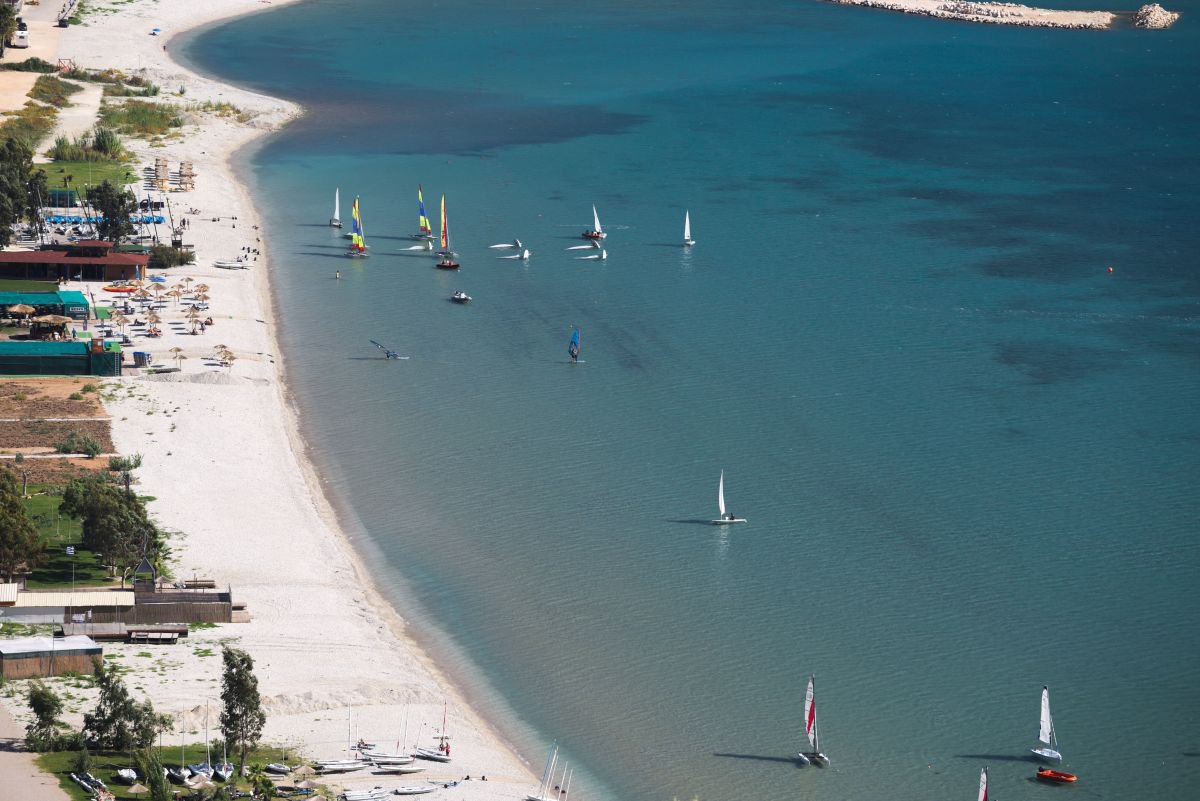 In an island bound by world-famous beaches, there is something truly special about a swim in a waterfall.
Beyond the beaches: Dimossari waterfalls in Nydri
In an island bound by world-famous beaches, there is something truly special about a swim in a waterfall. Conveniently located close to Lefkada's premier tourist areas, waterfalls at Dimossari is the ideal place for getting a break from the sun. Quiet and elusive, you gonna fall in love with this place. The water in this amazing natural spot is refreshingly cool, the place is usually not crowded and the hike that will get you there is equally amazing. Bear in mind that the best time to visit Dimossari waterfalls is from May to September.
Visit Meganissi island
Meganissi will enchant travelers with its natural jewels featuring virgin beaches with crystalline blue waters, traditional villages with stone houses and amazing lacy shores-simply a paradise waiting to be explored. This tiny island has three villages: Vathy is a picture-perfect fishing village and a harbour, with a few small fishing boats and yachts. Spartochori commands the best view, and is built on stony terrain surrounded by greenery, above Spilia harbour. Katomeri lies three km from Spartochori and is a small farmiers' village with olive groves. If you are an avid beach lover, you will adore Agios Ioannis, Spilia, Pasoumaki and Barbarezou and with a little bit luck you will enjoy these beaches all by yourself. Perfect strolling around the cobble streets, enjoying a sunset and tasting the local cuisine, Meganissi is without a doubt a little gem. Connected to Lefkada daily by ferry from Nydri (the ferry takes approximately 30 minutes to reach Vathy), we highly recommend a day trip here if you're spending a week or so in Lefkada.
There is never a dull moment in Lefkada island.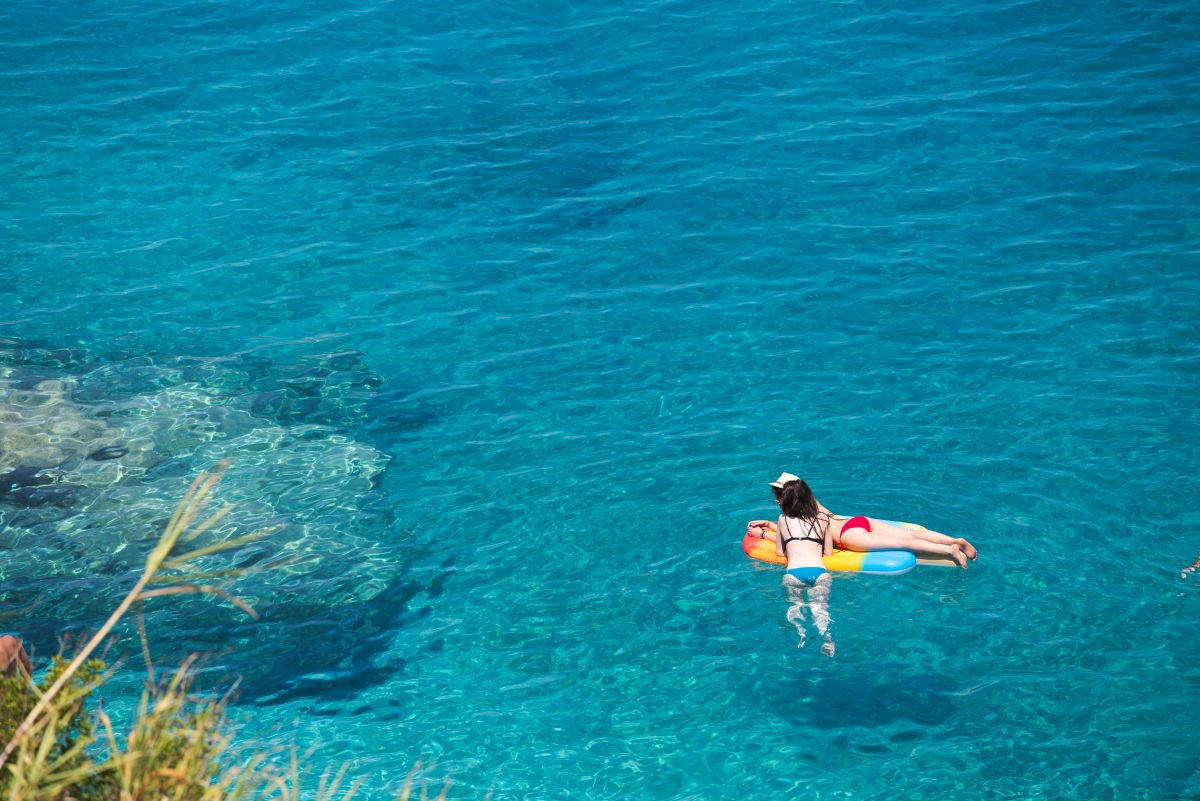 Let's have some fun
There is never a dull moment in Lefkada island. From ringo and crazy sofa to scuba diving and kayak, Lefkada provides unique opportunities for those seeking fun and adrenaline. If you are not afraid of speed jet ski , fly fish and water ski are the ideal activities for you. If you want to enjoy the sea and have fun ride the ringo, the crazy sofa, the pedal boat or the banana boat. Don't hesitate to explore Agios Ioannis, Nydri and Vassiliki by balancing on your SUP-Paddleboard. Boost your adrenaline by parasailing and get a bird's eye view of Lefkada's amazing coastline. Get your mask, snorkel and flippers and get ready to explore the breathtaking sea world. You don't have to be an expert or have any previous experience. Snorkeling and scuba diving are for everyone. Wildwind Adventures and Lefkas Diving Center will offer you one-of-a-kind underwater experience. Embark on an exciting adventure with a kayaking experience. With Agios Ioannis, Nydri or Vassiliki as a starting point, live the ultimate experience of kayaking with your friends or family and take back home some unforgettable memories from Lefkada. Last but not least learn the secrets of sailing and earn a certified licence that will give you the opportunity to sail in the turquoise waters of Lefkada.Human Sports and Wildwind will help you get started.
Hop, hop, hop!
Scattered like pearls across the sea, the beautiful islands of Ionian are calling you and you want to explore them all. And guess what lucky guy? With Lefkada as your starting point you can go for an excursion to the nearby islands of the Ionian Sea, very, very easy. Local ferry companies and private boats connect neighbouring islands and islets, so you can plan your trip or adapt it according to your preferances. From Lefkada, day-trip to the private island of Skorpios, owned by Aristotle Onassis, then to Madouri, the tiny uninhabited island with the large pine trees, carry on to the magical Kefalonia famously known by the "Captain Corelli's Mandolin" movie and then to the picturesque Ithaca, the home of Odysseus. Visit Paxos and Antipaxos, the small islands with the endless olive groves, the rolling hills and the unspoiled beauty. Hop a boat to Kalamos, which abounds in beautiful landscapes and stunning blue waters and after that visit the magnificent island of Kastos which will seduce the more discerning travelers.
By: Effie Barla
Photos: Andreas Thermos