March 22, 2021
Lefkada island is home to a staggering array of amazing beaches with fine, icing-sugar sand and inviting turquoise waters, you know that right? What you may not know about Lefkada is that this green, lush and gorgeous island has a hidden treasure called ''Dimossari''. Well, to be honest the place is not exactly a secret because this beauty cannot be hidden but believe me, these waterfalls create a peaceful oasis of freshness that you won't forget. So a visit here is a must!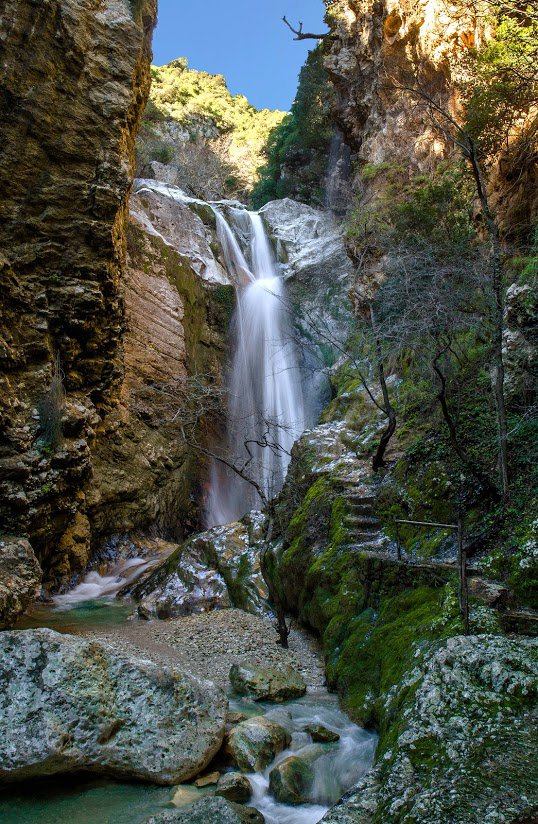 How to get there
Dimossari waterfalls (aka Nydri waterfalls) are located in the eastern part of Lefkada island, on the outskirts of Nydri. So if you want to get there, you should follow the road to Nydri. Before you get in the centre of Nydri you will see in your right the ring road of Nydri. You should follow that road and after a while you will see on your right a sign that leads to the waterfalls.
After about 3 kilometres you will see a parking lot where you can park your car or bike. It is relatively easy to reach the main waterfall (it takes approximately 15 minutes). You just have to walk for 400 meters on a well maintained footpath. This gentle hiking trail is ideal for families with toddlers and for the elderly. You will soon begin to hear the roar of the falls, to smell the sweet scent of the huge plane trees and to be surrounded by a lash vegetation. After a while you will see the first waterfall which is pretty small, carry on for a while and...here you are! The big waterfall! Now it's your moment to relax and unwind. Sit back and feel the mist wash over your face while enjoying the mystical sound of the waterfalls.
This place is also perfect for swimming as there is a natural swimming pool with vivid blue-green coloured water underneath the waterfall. On a balmy summer day, bring your swimsuit and take a cool dip beneath the powerful forces of nature but keep in mind that the water here is freezing.
This small slice of paradise with its hypnotic white-blue colour is begging to be photographed, so don't forget your camera!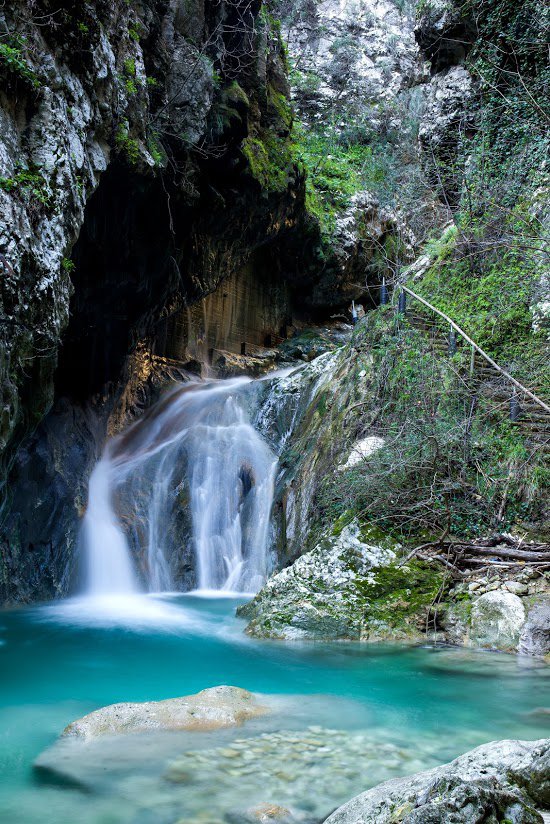 If you were looking for summer plans, look no further!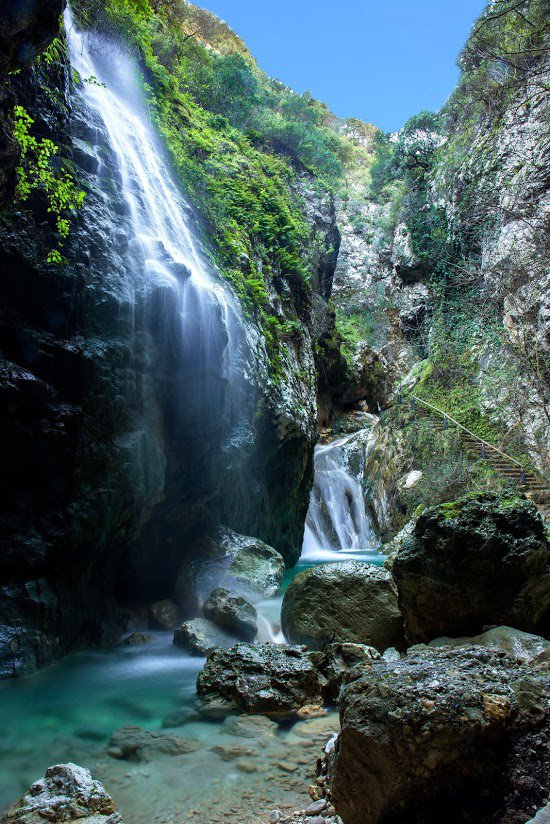 Do you love hiking? Check this amazing hiking walk that starts from Nydri and ends in Dimossari waterfalls
Useful info
The place is open to the public all year round and it's free.
The best time to experience Dimossari waterfalls is during spring or early summer but if you are in Lefkada during high season (mid-July to mid-August) and you want to avoid the crowds, it's better to visit Nydri waterfalls early in the morning or late in the afternoon.
Dimossari is the ideal location for your picnic lunch but remember to collect all your rubbish and take it back home with you.
If you get tired you can have a refreshment, coffee or a snack in the small cafe that is close to the parking area.
Beware of slippery rocks and wear slip-resistant shoes (or just avoid flip-flops).