May 21, 2021
As soon as you cross the bridge, you'll realize Lefkada is a place you'll want to return to again and again. The island's generous offerings are simple, unassuming and distinctly slow-paced. There are no tourists here, only visitors, and as visitors you will be greeted with safety in mind, according to health protocol guidelines that will help you feel and, most importantly, remain protected. This year forget your "to do" list and savor a mood of discovery – new experiences that reveal the island's, and your own, true essence.
Authentic experiences in lefkada
A sunny Sunday meal
Laid-back atmosphere and a lesson in good home-cooking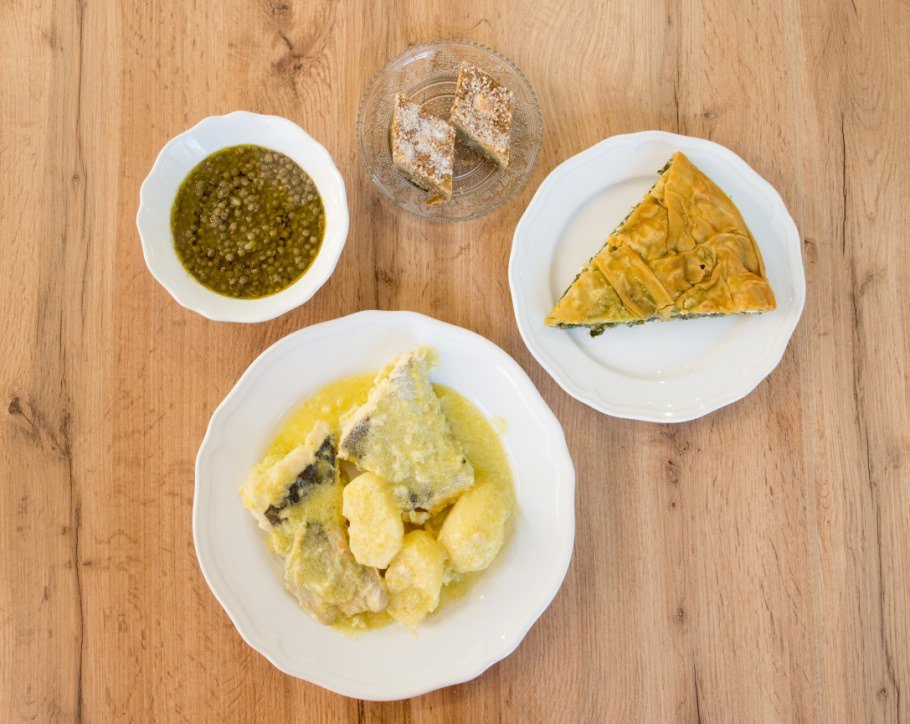 Learn age-old Lefkadic cooking secrets in this lovely, old town coven of traditional cooking where local ingredients lead the rites. Tasting Lefkada sends you straight to the kitchen where you'll prepare, taste and cook alongside the three dynamic women that created this beautiful space a few years ago. Thrilling aromas lead workshop participants on a journey of gastronomical delights, revealing the common thread between local and trans-Mediterranean "home-cooking" traditions.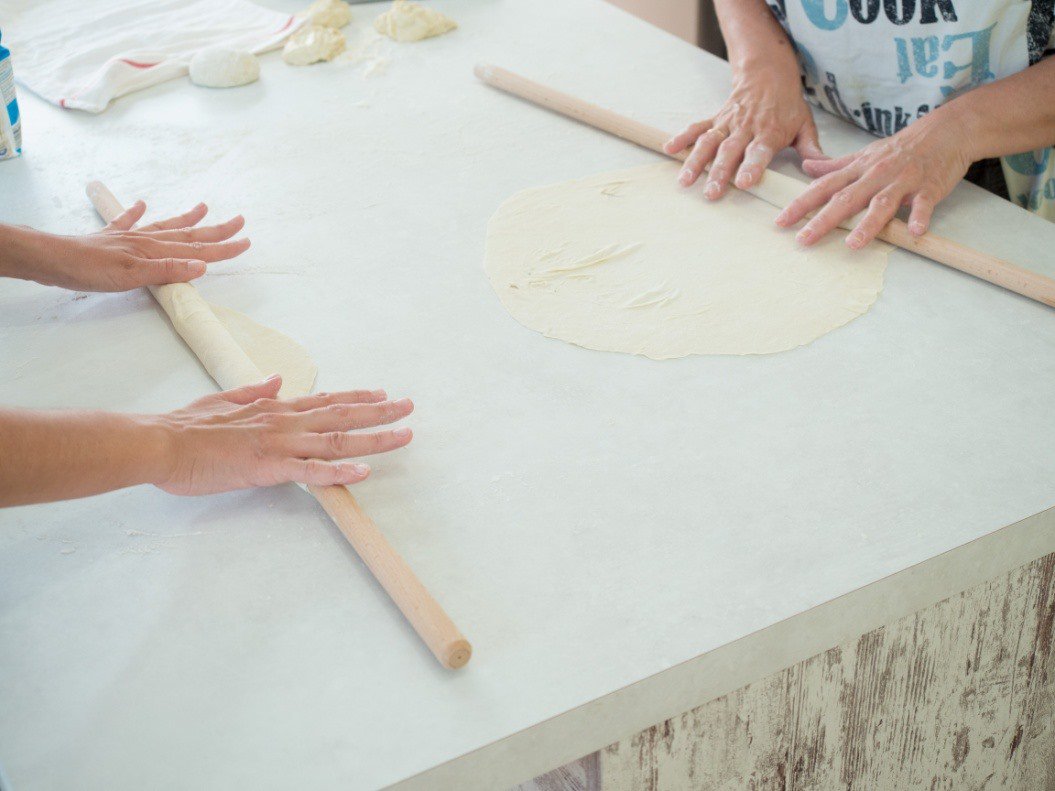 Τasting lefkada isn't run like a restaurant. If you want to eat, you have to don an apron and get your hands dirty. Chop, fry, roll out some dough, taste for seasoning and, finally, enjoy the delicious home-cooked meal you've made! Workshop menus focus on local specialties like Eglouvi lentils, traditional riganada, spinach pie, cod bianco and olive oil pie made with Tasting Lefkada's own locally pressed olives. But popular Greek dishes like zucchini fritters, Greek salad and moussaka are offered as well, with yoghurt, walnuts and Athani honey for dessert! These women truly appreciate good food and the luxury of cooking with seasonal ingredients all year round.
Learn more: Here's where you can buy traditional products made in Lefkada
From Stuttgart with love
or how German expertise joined hands with Greek meraki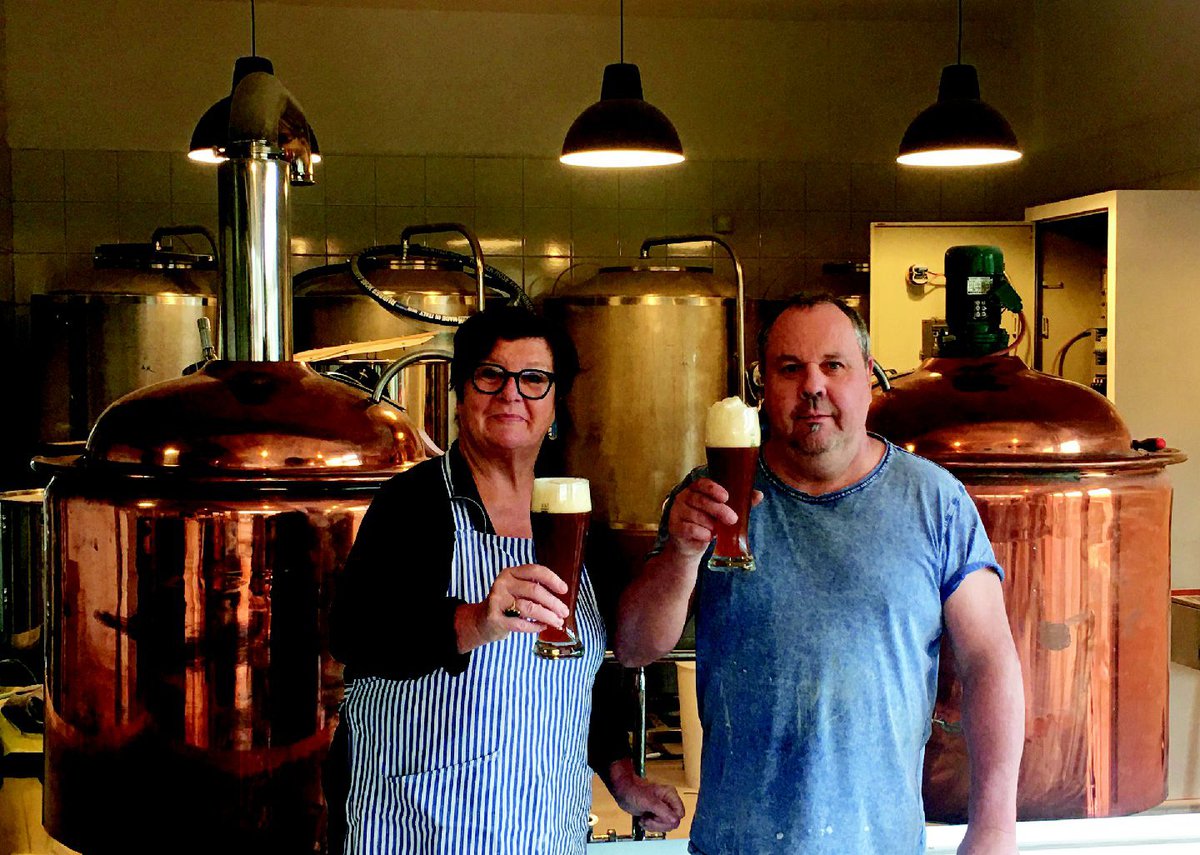 Marion and Jürgen discovered Lefkada one carefree summer in the early 90s while exploring the Ionian Islands. They fell so deeply in love with the island that soon later, they built their vacation home here. In 2019, the couple moved to Lefkada to create their dream - an artisanal micro-brewery in Lazarata that serves refreshing draft beer for connoisseur tastes accompanied by delicious meze. It's the perfect spot to visit in the afternoon after a day at the beach. If you're staying in a room on the island, or living aboard a boat in one of the marinas, and suddenly have a craving for this fruity aromatic beer, you don't even have to make the trip to Lazarata. Just call and have your order delivered. Cheers!
Endless cycling in nature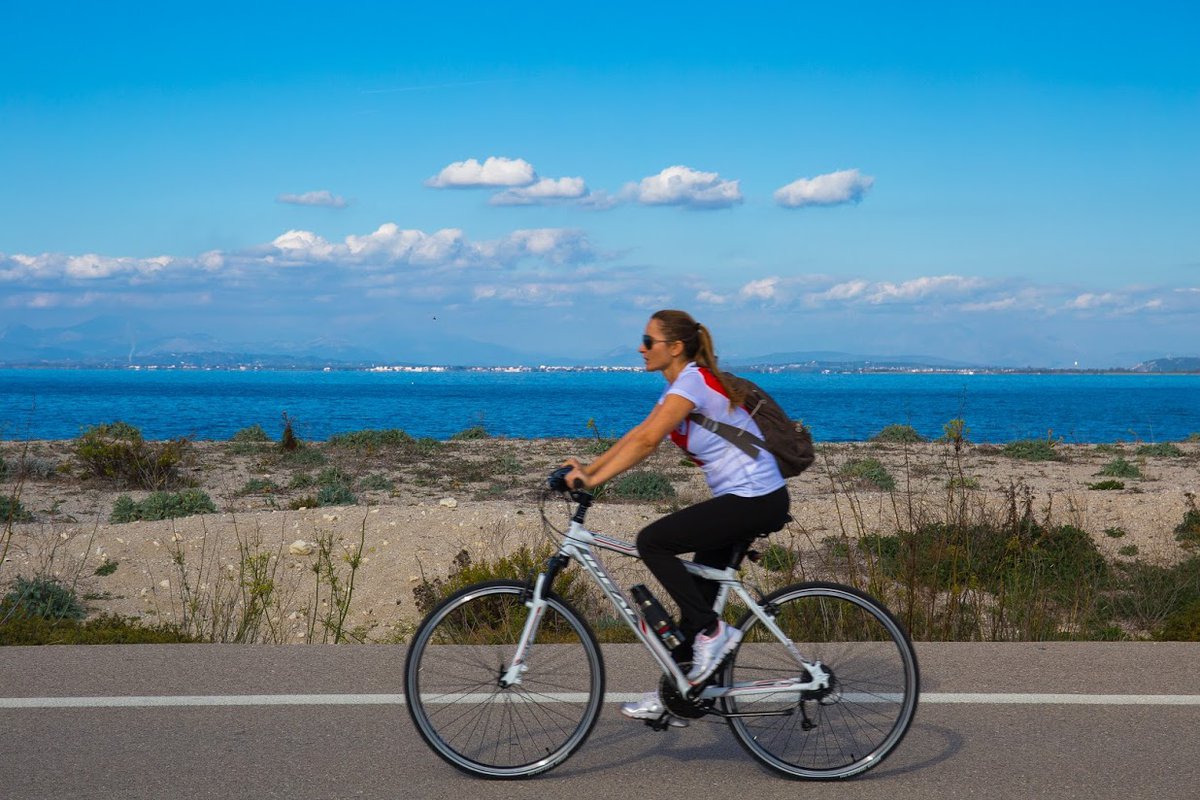 Initiated natural lovers know that Lefkada is a cycling and trekking paradise. Take a ride from Gyra and Agios Ioannis to the shady Venetian Olive Grove celebrated by the poet Angelos Sikelianos and onwards to Kouzounteli where you can savor the almond beverage soumada at the "American's Café", an experience that will transport you back in time.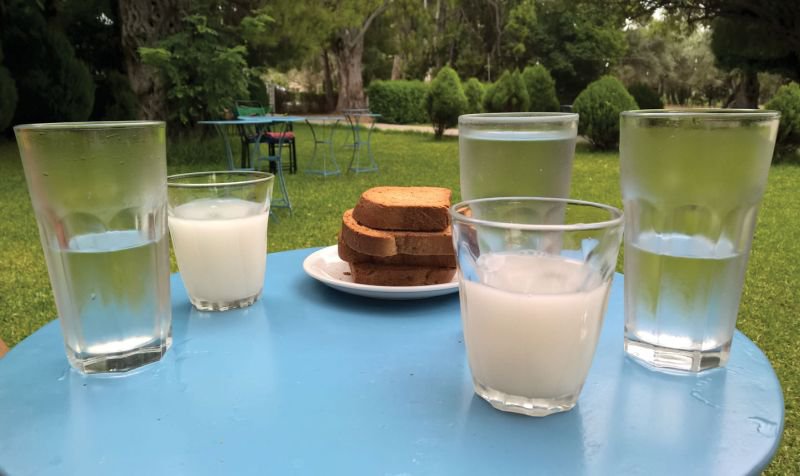 The American's Café
A proper bicycle ride isn't complete without a stop at "the American's", a café in Kouzounteli owned and run until recently by Yannis Soldatos. Contrary to his nickname, this man had never set foot in the U.S. He was, in fact, an immigrant in Australian, but why be a stickler for truth? Once you've been "christened" by the locals, you're just stuck with the name. The American's Café has been open continuously since the 1960's and comprises a living history of the island. Generations and generations of Lefkada residents have raised their ouzo glasses to toast over these metallic tables while children flocked around the distinctive blue fountain for hours of play.
This is where you'll come in the heart of summer one afternoon to read your book in utter peace, drink your thick Greek coffee and taste the refreshing homemade soumada (served with cold water and anise biscuit), nibble still steaming hand-cut fried potatoes and the best meatballs you've ever tasted made by the masterful hands of Mrs. Akrivoula.
Read more: Try soumada - Lefkada's traditional almond beverage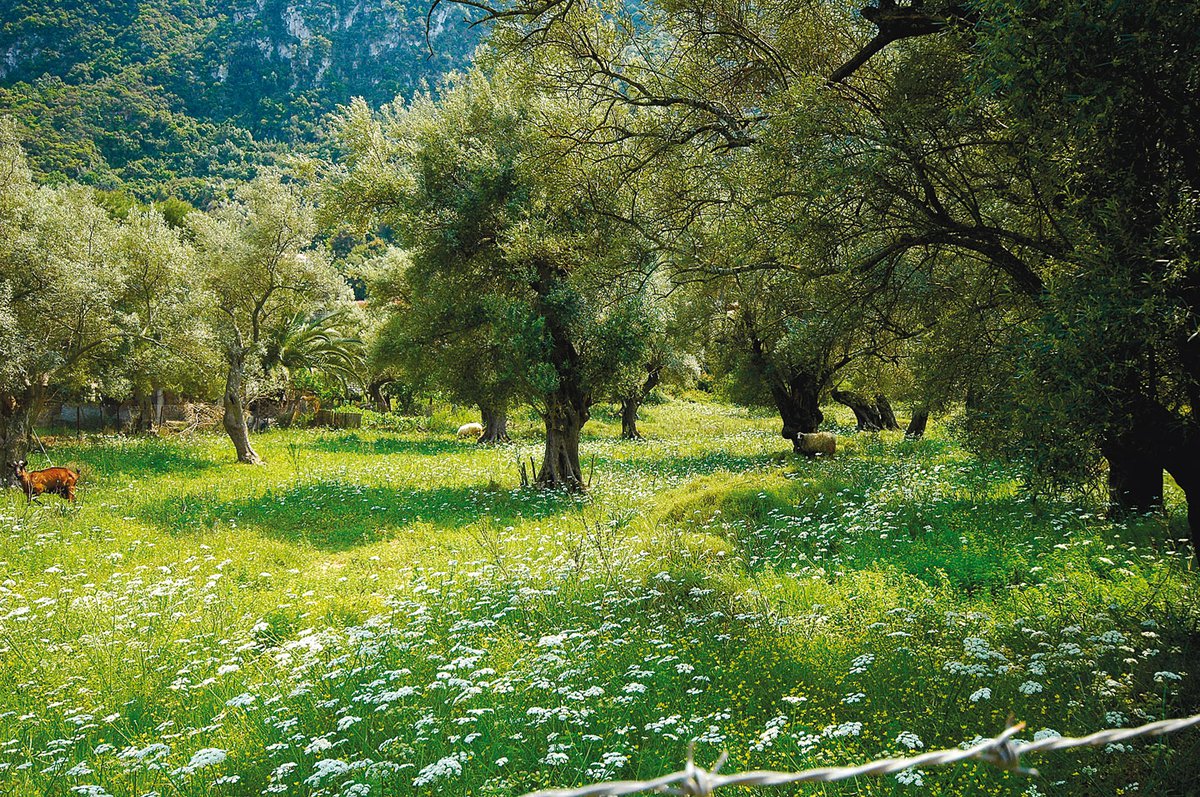 A swim at Agios Ioannis and then coffee at Tilegrafos
Slow before slow was invented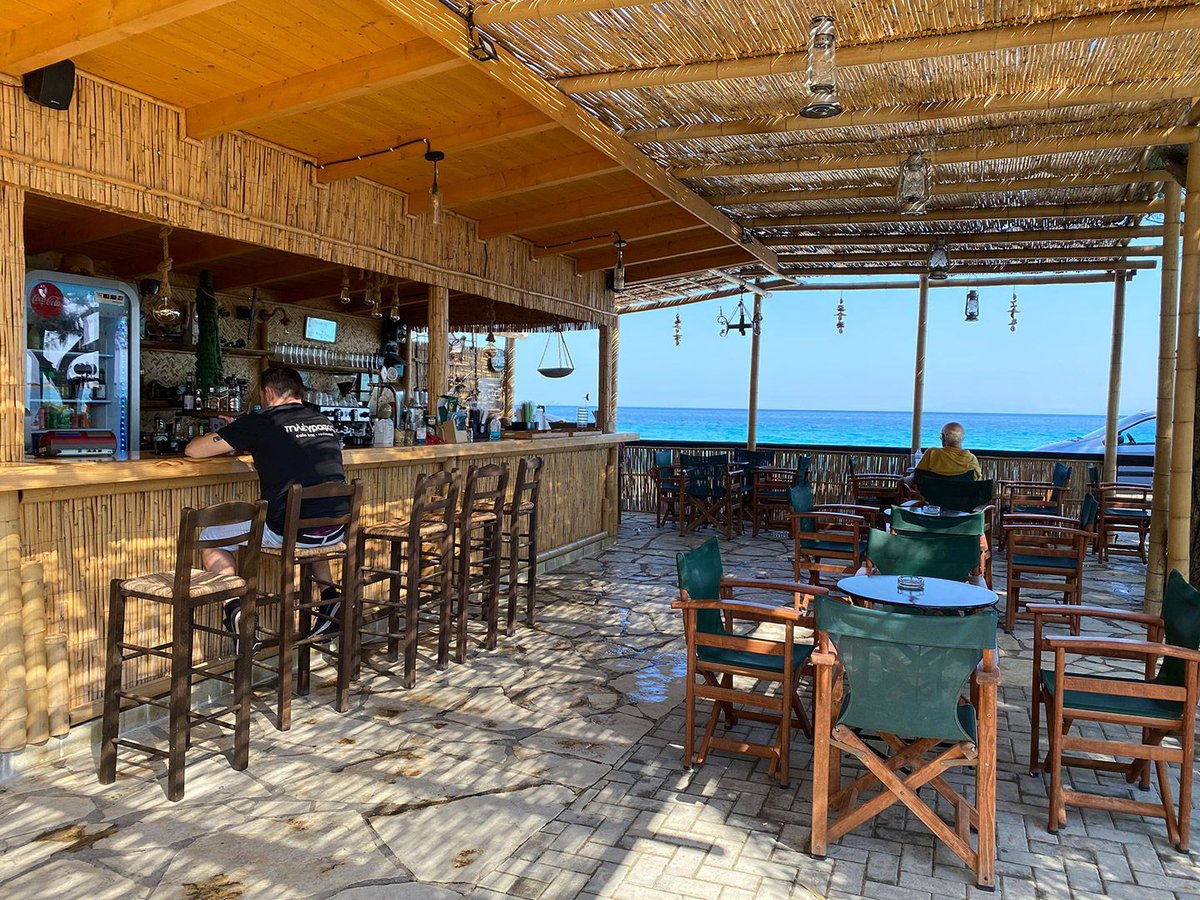 If I had to choose just one moment as the epitome of summer in Lefkada, it would be diving from the cannon at Kryoneri and then dashing to Tilegrafo for a cold beer, our bathing suits still dripping, a cool breeze blowing and the cicadas playing their symphony overhead. Agios Ioannis might be synonymous with kite-surfing for most, but those of us who grew up on the island anticipate Tilegrafo's opening as the customary commencement of summer. Chill, laid-back atmosphere, friendly vibes from the staff and a mesmerizing view. This is the place to enjoy simple and savory food.
Discover Lefkada's enchanting villages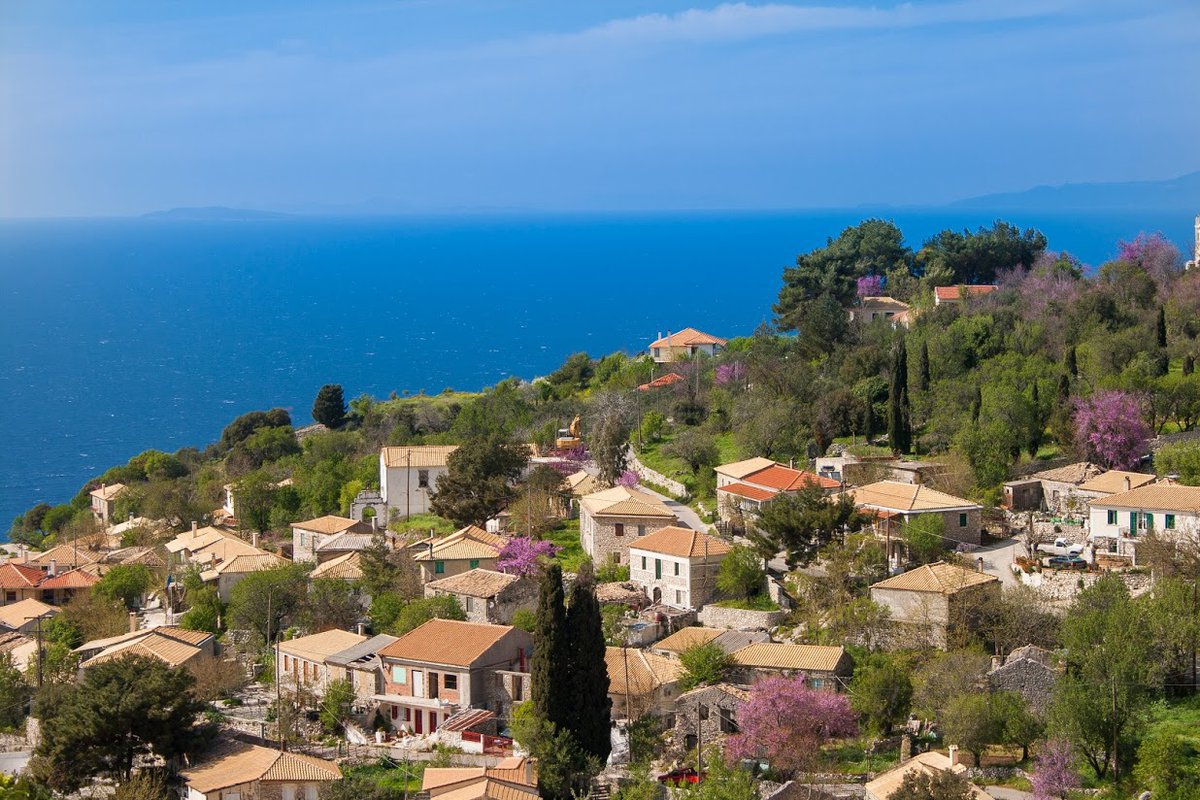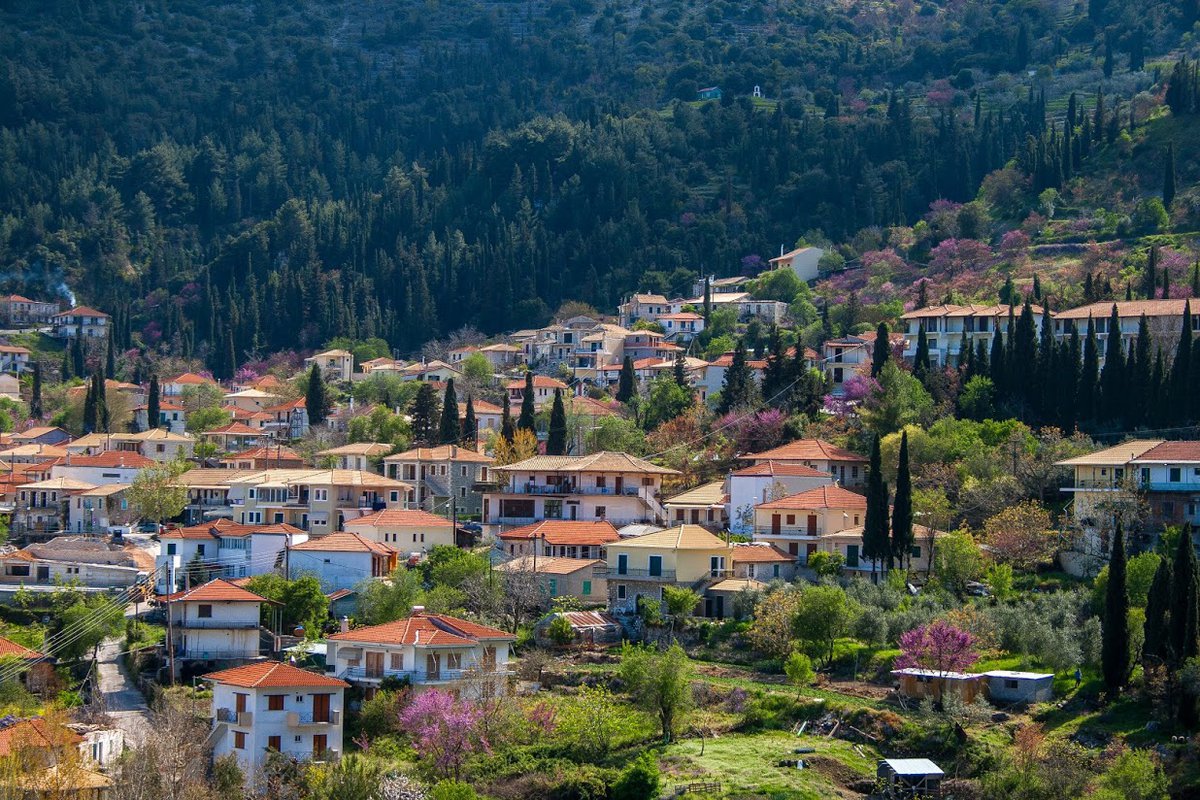 The island's picturesque stone-built villages introduce us to another facet of life here. In Drimonas and Exanthia, you'll feel as if time has stopped. In Karya you'll savor ouzo like a local in the village square, under a canopy of plane trees. Finally, in Eglouvi, the picturesque village that produces the famed yellow lentils, you'll get to sample these delicious legumes in situ.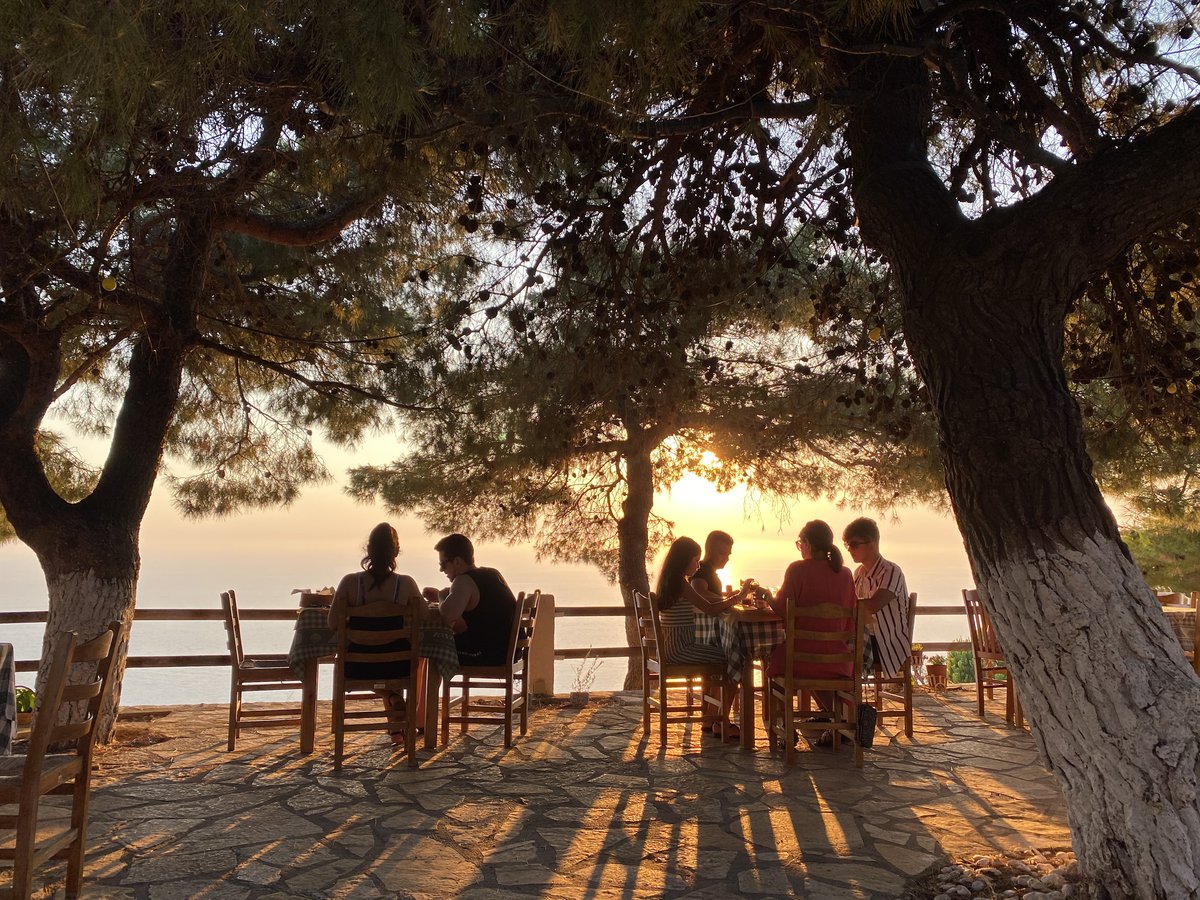 Porto Katsiki, Kathisma, St. Nikitas and Mylos are undoubtedly the four most enticing beaches of west Lefkada. Their cyan waters tempt you for a dive while the tree-lined coast offers endless spots to cool off and relax. The ideal time to enjoy this area is June and September, before and after the crowds. But if July and August are the only time you can make it, start your beach day early or visit less crowded alternatives like Kalamitsi and Pefkoulia that are just as beautiful.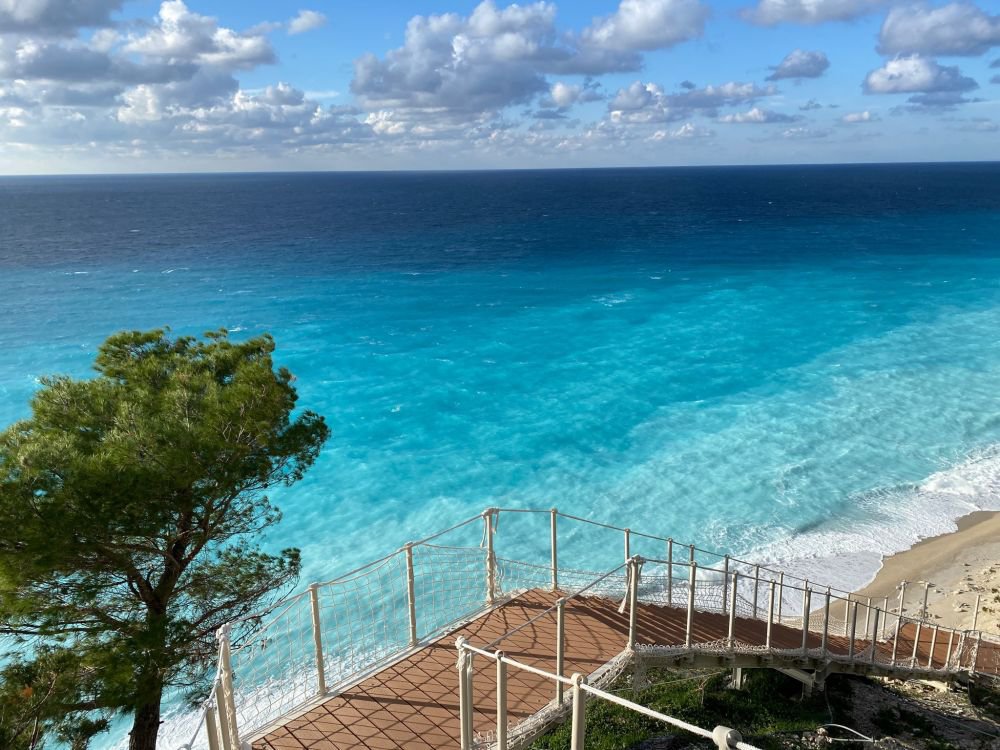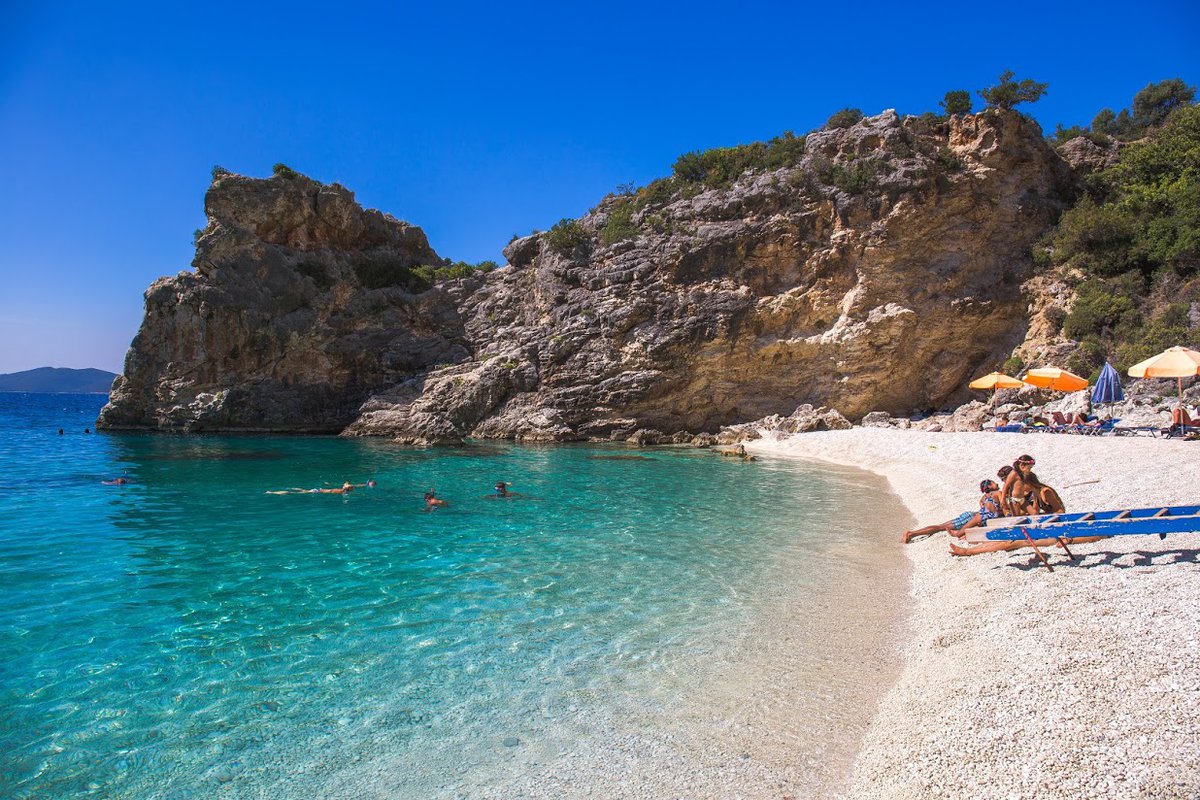 On the south coast of Lefkada, be sure to see Sivota, tiny Ammouso, white-pebbled Agiofylli and the windersurfers' paradise Vasiliki. Lefkada's eastern beaches are popular with families who appreciate the sheltered, shallow waters and seaside services.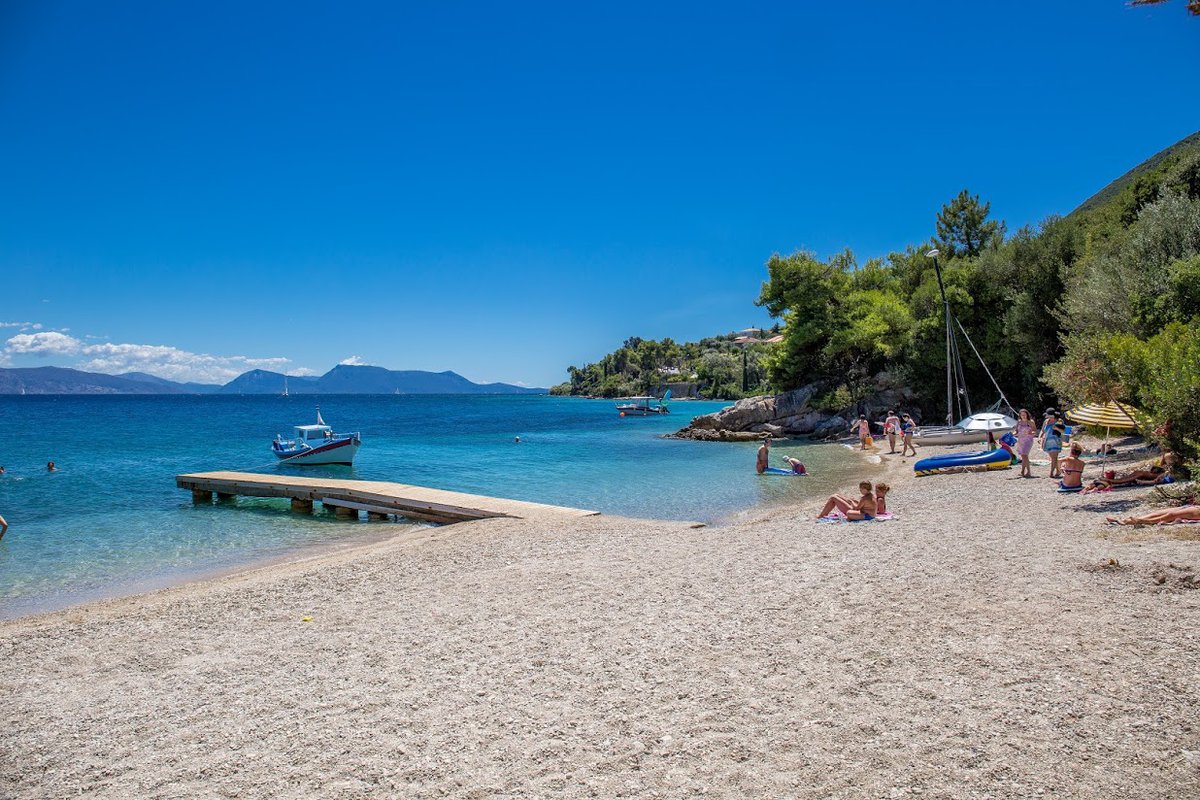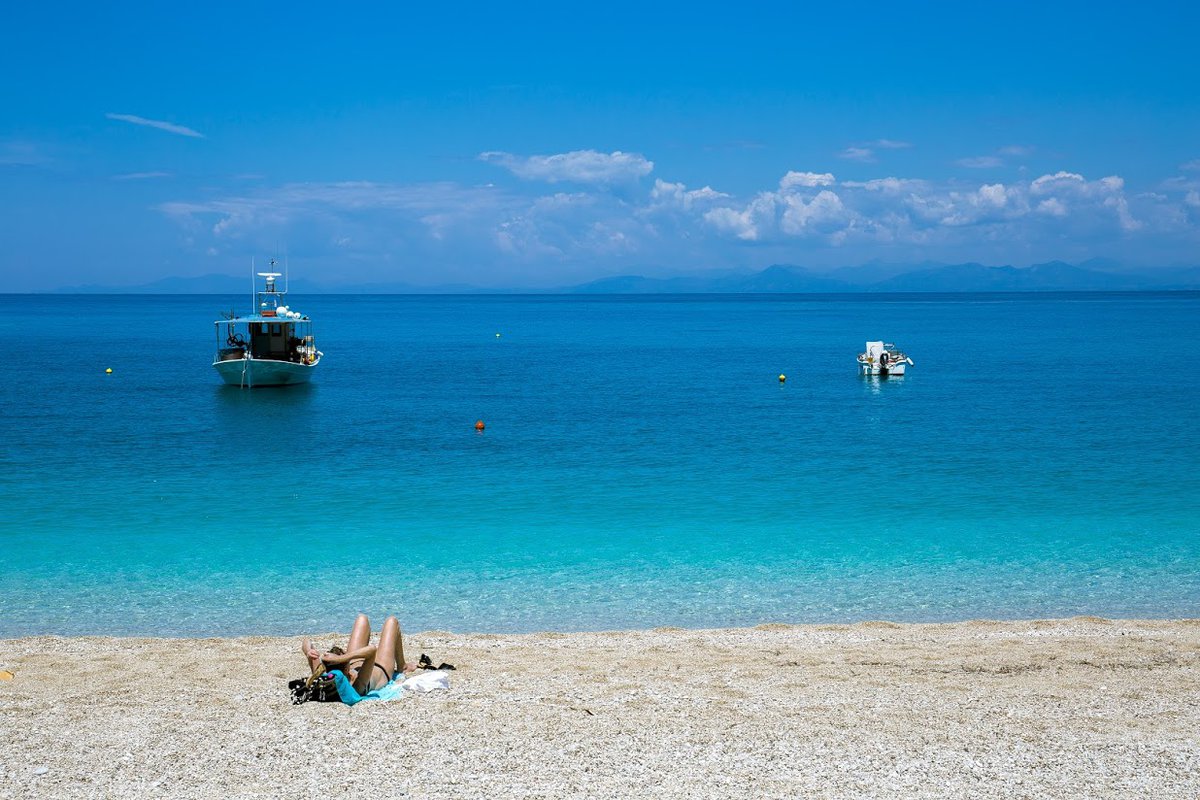 Of course, if you ask Lefkada's old town residents where to go for a swim, they'll point you in the direction of Gyra, Myloi and Agios Ioannis, nearby beaches (with few visitors) where lush terrains caress the deep blue of the sea.
Continue reading: Egremni beach accessible by car, once again, in summer 2021