July 29, 2020
You only get to truly know a place when you taste its cuisine. Lefkada, with its rich culinary tradition that follows the authentic Ionian cuisine, has to present some great dishes that will make you swear that they are one of the most delicious you ever had. There are countless food options in the island of Lefkada ranging from traditional taverns, cozy ouzeri and grills for yummy greek mezedes, to alternative restaurants serving ethnic cuisine and gourmet dishes. In Lefkada you can find many restaurants with panoramic views. In this article, we will present you 9 of them, where you can enjoy the culinary creations of locals with the most amazing views.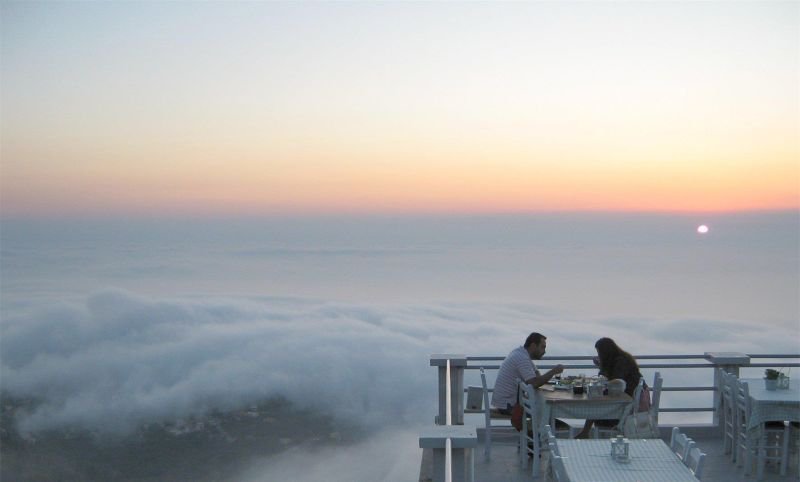 High up on the mountain top the restaurant "Rachi" makes its presence in absolute harmony with the surroundings, built and decorated in a tasteful manner reflecting its simplistic style. The pleasantly cool balcony welcoming the visitor is an unquestionable asset. The blue horizon offering an exquisite view of the Ionian Sea is really enticing to those who actually wish to drink their coffee, savour their homemade delicacies from the traditional wood-fired oven, their freshly gathered vegetables from their garden, taste their local meat and enjoy their wine.
Next to the mountainous paragliding site of the slope which fly you to the wonderful West coasts, the All Day café-bar "FLY ME" opens its wings and welcomes you with a big hug.
Amente Restaurant & Cocktail Bar
Drymonas, Lefkada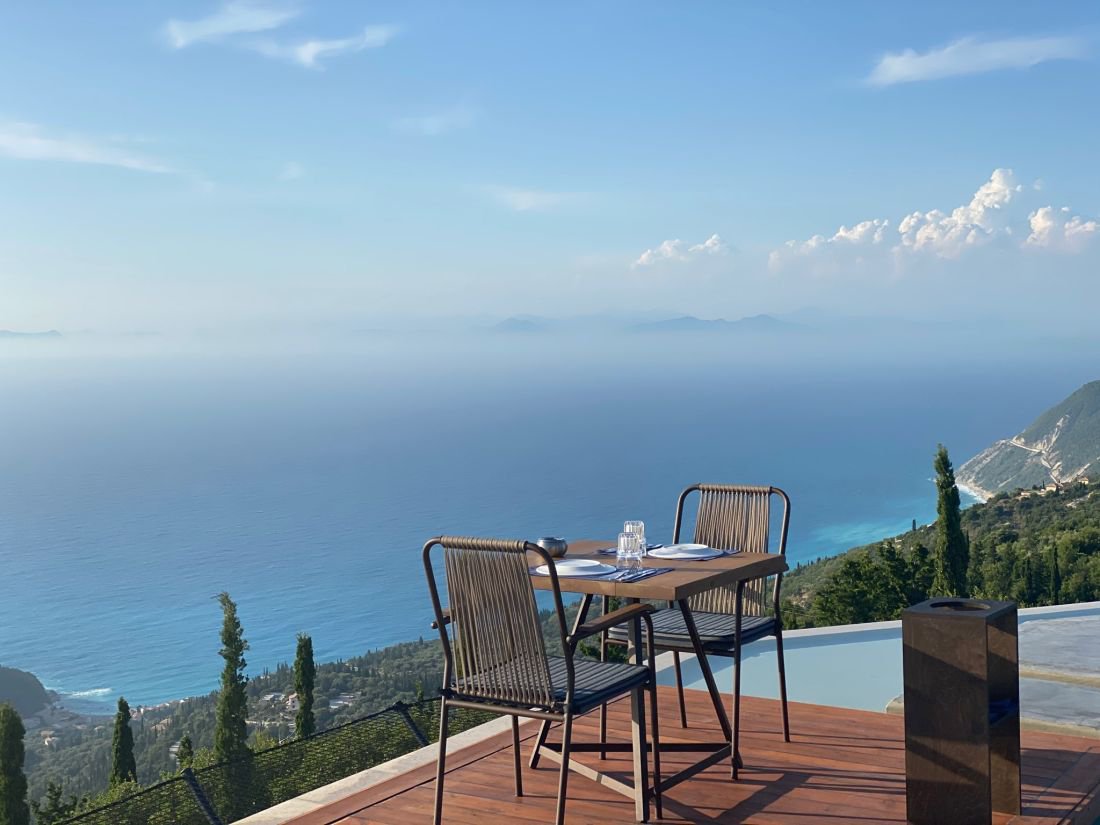 Amente is a brand new Restaurant & Cocktail Bar that will definitely amaze you. Come here to enjoy a fine dining experience with tasty and unique dishes, signature cocktails and unobstructed panoramic sea views.
Monato restaurant
Kathisma beach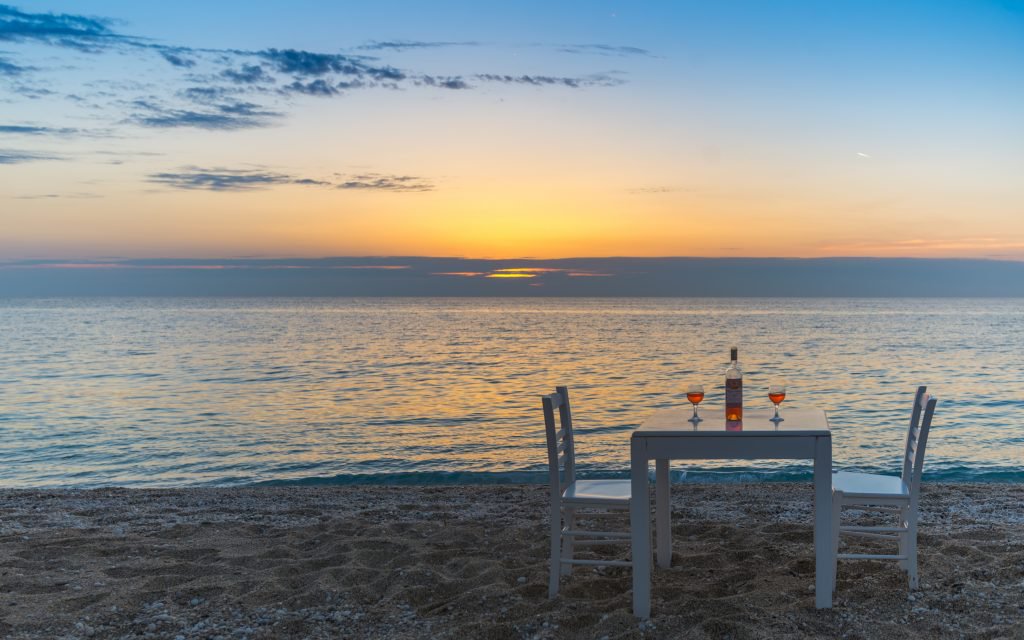 Monato restaurant is located at Kathisma beach, famous for its unique sunset. This is a sophisticated and modern decorated restaurant in complete harmony with its surrounding environment. It proposes dishes from the New Greek Cuisine building on the tradition and inspired by contemporary creative trends. Monato promises culinary delights and offers a very good price-quality ratio.
Lefkatas restaurant
Athani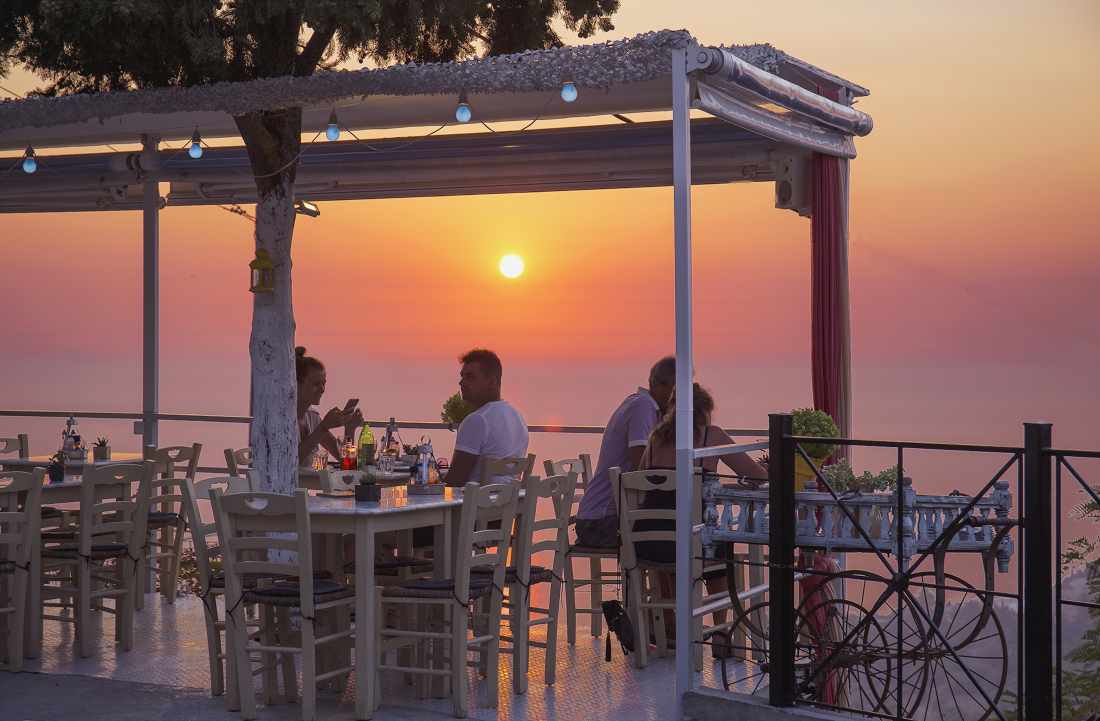 Lefkatas tavern is located in one of the most beautiful villages of the island, towards Porto Katsiki, Egremni and Gialos beach. Admiring the horizon of the Ionian Sea, you can enjoy your early coffee and taste home-made marmalades, pies, ouzo appetizers, handmade sweets and local gastronomic delights setting your senses and your palate free. Emphasizing in the goods of the land of Lefkada, taste vegetables and fruits from the land of Lefkada as well as thyme honey, olive oil, wine and, of course, meat, fish and sea food with the aroma of the Ionian sea.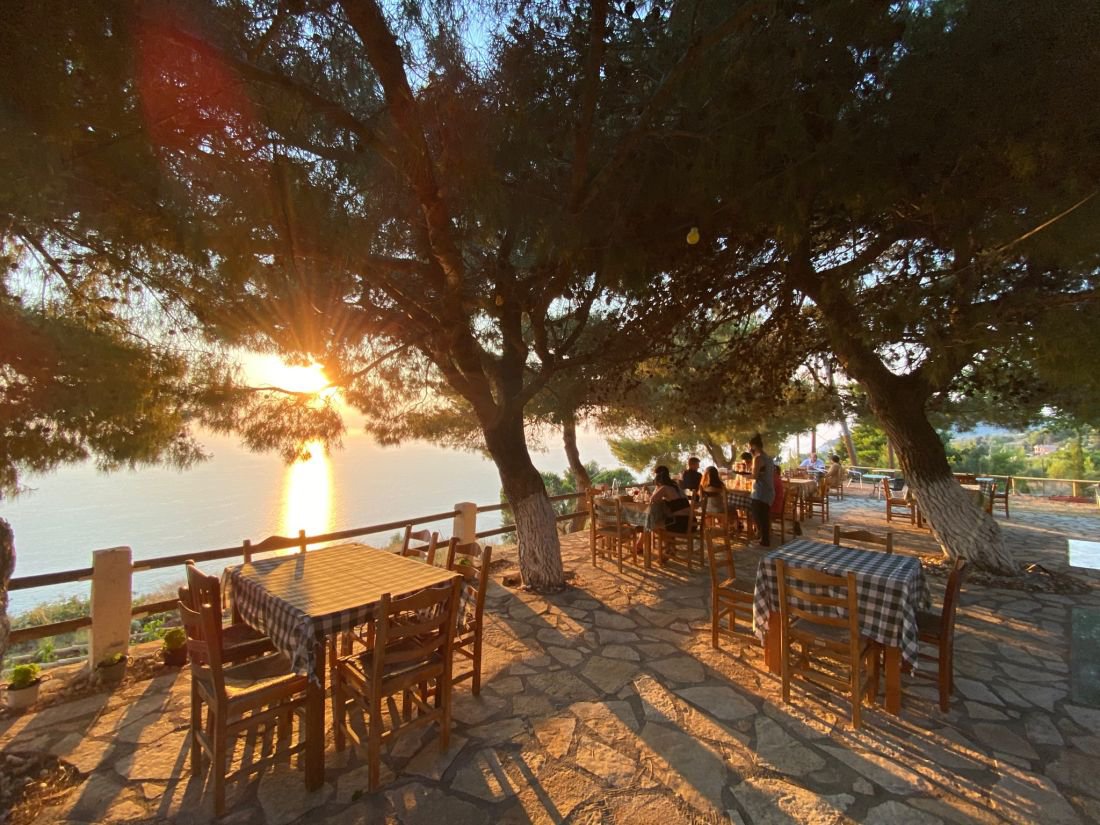 The traditional, family tavern par excellence. Ionio tavern in Lefkada epitomizes authentic home cuisine and its menu appeases, for many years now, gourmands coming from all over the world.
Here, you will enjoy this unique view and the delicacies offered.
Mrs Dina and her family will pamper you and offer you Lefkadian dishes, prepared with care and skill with local ingredients.
Grilled pelagic fish, rustic rooster with pasta, rabbit stew, goat with oil and oregano, Vergado (braised wild goat), Lefkadean pies; these are only a few of the dishes you will find here, at the Ionio taverna!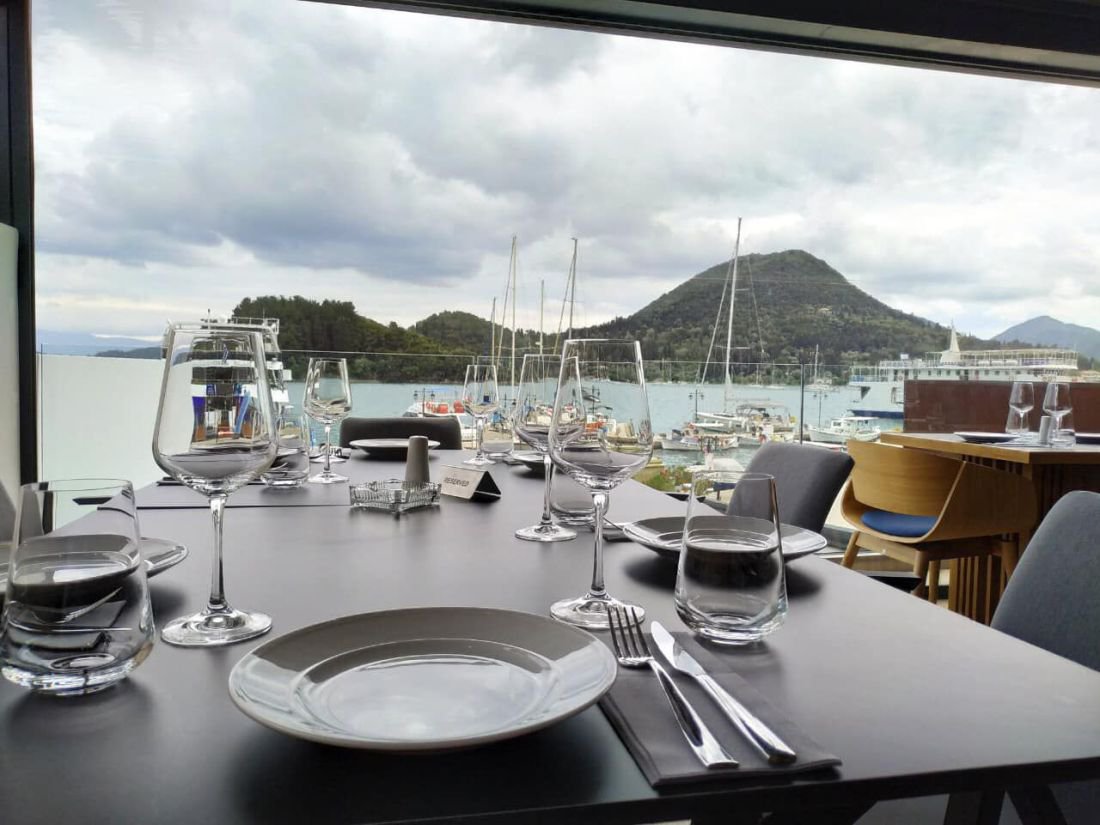 The famous fish tavern Minas opened its gates in a nice location in the port of Nydri, offering daily Greek Mediterranean cuisine with gourmet touches. In the menu you will find well-known recipes but also modern dishes with the smell of the sea.
Avra Βeach Restaurant
Nydri, Lefkada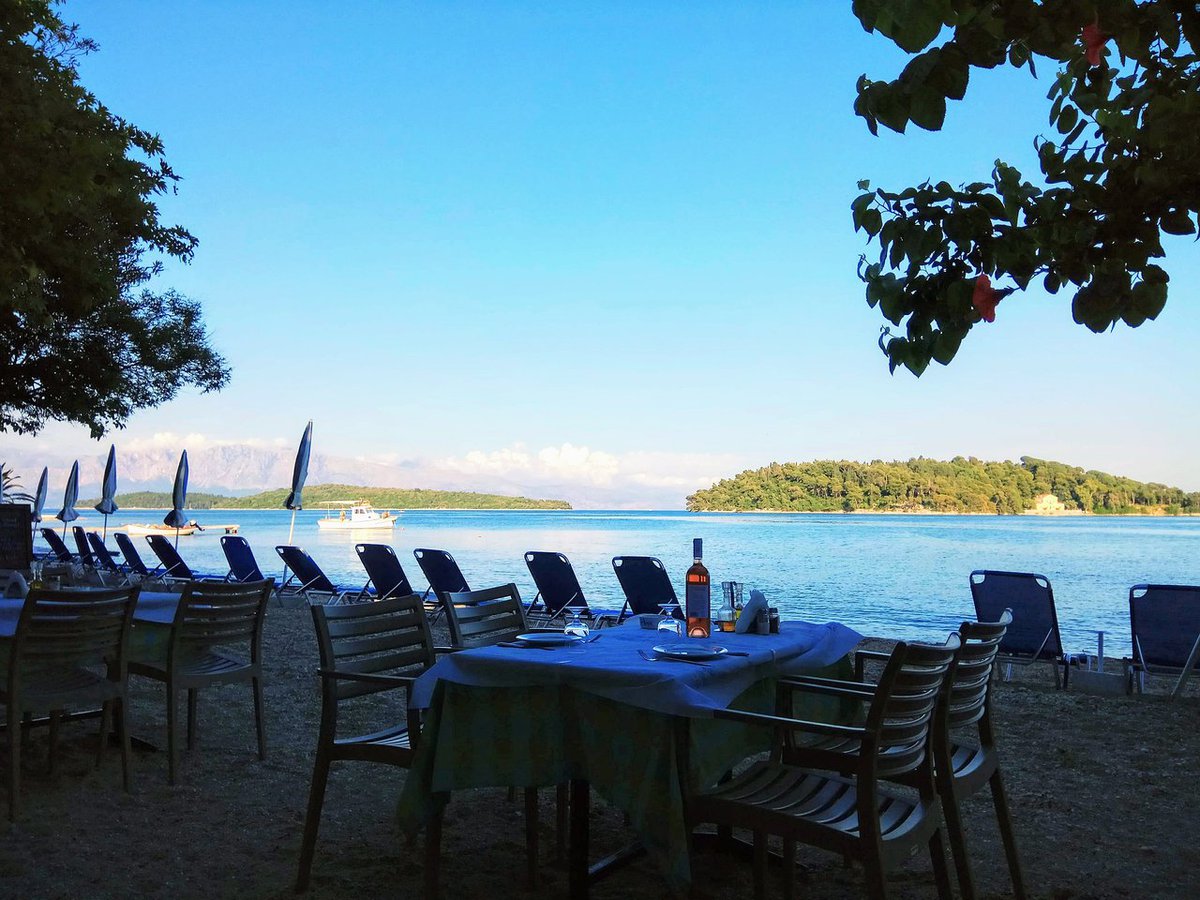 The restaurant Avra beach with authentic greek kitchen is waiting for you for lunch or dinner by the sea and the trees, at a quiet and family atmosphere. You will enjoy homemade food.
Do not miss to taste the special pot roast or lemon sauce roast! Bonus the amazing view towards Madouri island.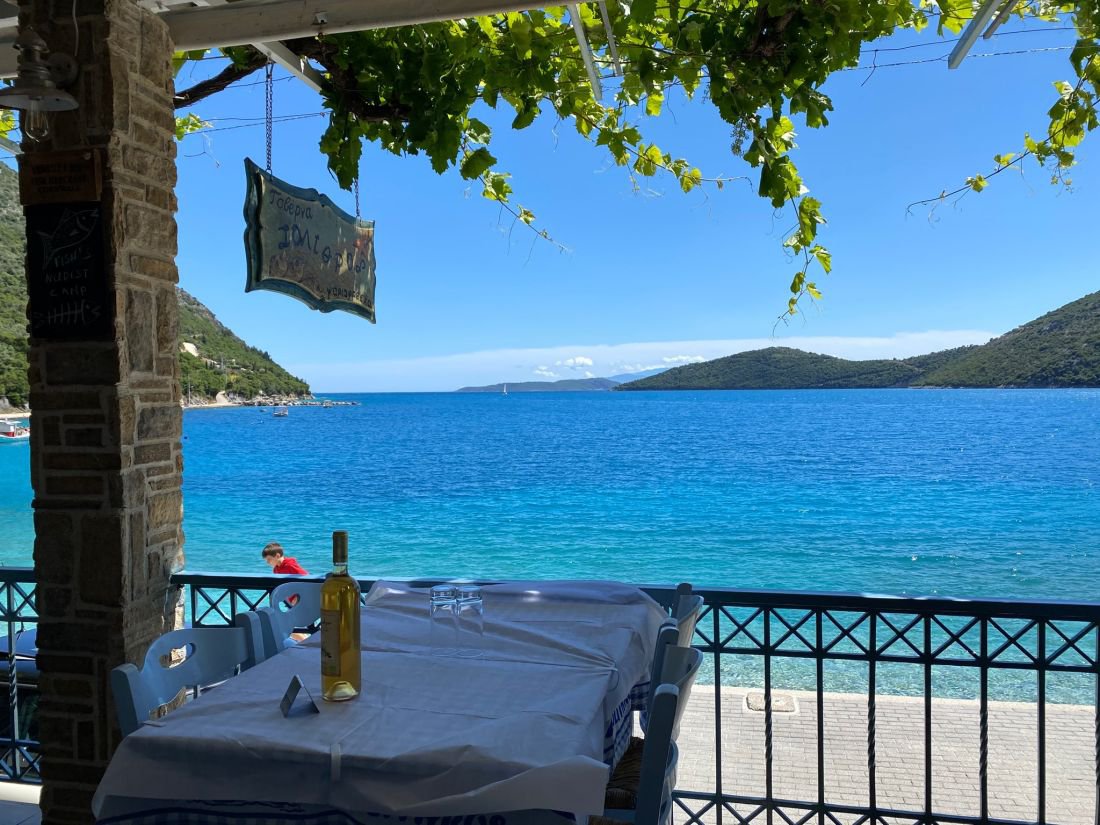 In 1972 Armata's family has created the small yard of "Zolithros" which some years later was meant to be the tavern that attracts everybody on the beautiful bay of "Mikros Gialos" in Lefkada. Decades later "Barba-Nikos" continues tirelessly to barbecue the fresh fish which he fishes with his boat, Miss Yannoula fascinates us with the most delicious local recipes and the always polite and cheerful Vangelis with his jokes and willingness will serve you in a unique way so you enjoy your choices!
En Lefko restaurant
Ponti, Lefkada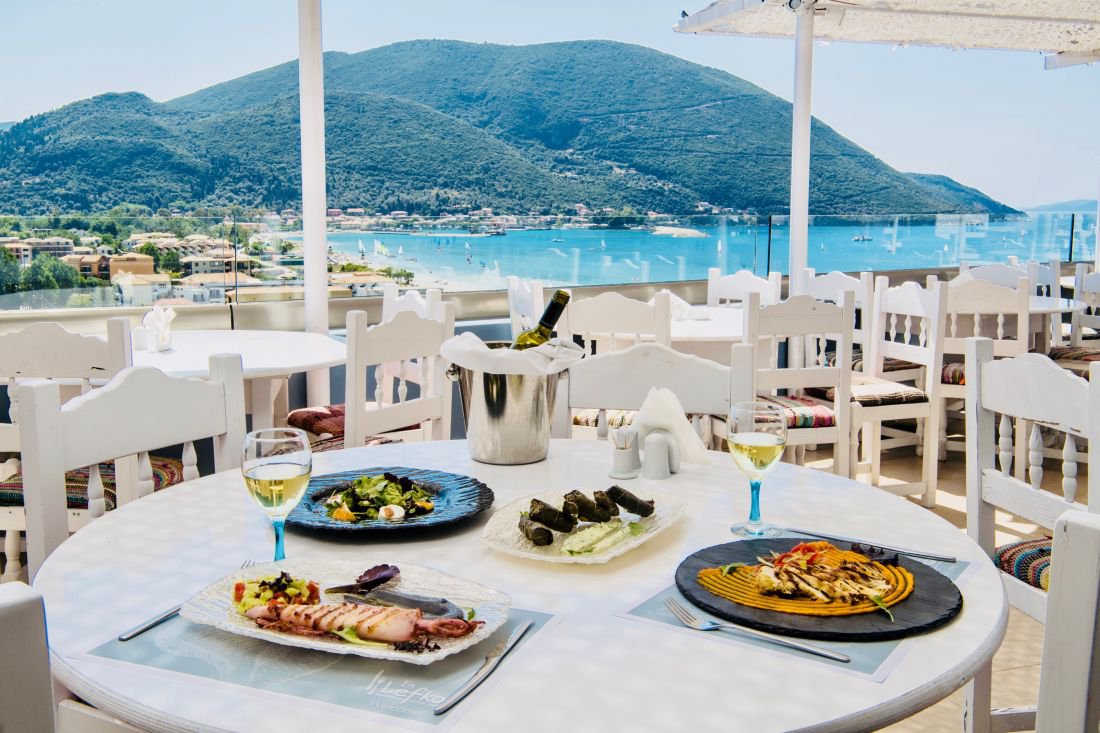 Αt the restaurant of Ponti Beach Hotel you can enjoy a large variety of culinary options. Τhe traditional menu and the relax atmosphere will give you an exquisite Greek food experience.