February 28, 2023
This summer visitors from Austria, France, Germany, Hungary, Italy, Israel, Netherlands and United Kingdom of Great Britain can fly direct to Aktion/Preveza Airport (PVK)
From Vienna (VIE) to Lefkada/ Aktio-Preveza (PVK)
From May 20, 2023 to September, 24, 2023 with Austrian & Ryanair
_________________________________________________________________
From Paris-Orly (ORY) to Lefkada/ Aktio-Preveza (PVK)
From 22 April, 2023 to September 30, 2023 with Transavia
_________________________________________________________________
From Berlin (BER) to Lefkada/ Aktio-Preveza (PVK)
From June 29, 2023 to September 3, 2023 with Easy jet
From Frankfurt (FRA) to Lefkada/ Aktio-Preveza (PVK)
From May 13, 2023 to September 30, 2023 with Condor
Stuttgart (STR) to Lefkada/ Aktio-Preveza (PVK)
From May 13, 2023 to October 14, 2023 with Condor
_________________________________________________________________
From Budapest (BUD) to Lefkada/ Aktio-Preveza (PVK)
From June 3, 2023 to September 12, 2023 with Ryanair
_________________________________________________________________
From Milan Malpensa (MXP) to Lefkada/ Aktio-Preveza (PVK)
From June 26, 2023 to September 1, 2023 with Easy Jet
From Rome–Fiumicino International Airport Leonardo da Vinci (FCO) to Lefkada/ Aktio-Preveza (PVK)
From June 2, 2023 to August 30, 2023 with Ryanair
From Bergamo (BGY) to Lefkada/ Aktio-Preveza (PVK)
From June 1, 2023 to September 30, 2023 with Ryanair
From Bologna (BLQ) to Lefkada/ Aktio-Preveza (PVK)
From June 1, 2023 to September 21, 2023 with Ryanair
From Napoli (NAP) to Lefkada/ Aktio-Preveza (PVK)
From May 30, 2023 to October 3, 2023 with Aegean and Volotea
_________________________________________________________________
From Tel Aviv Ben Gurion (TLV) to Lefkada/ Aktio-Preveza (PVK)
From March 29, 2023 to October 11, 2023 with Tus air
_________________________________________________________________
From Amsterdam Airport Schiphol (AMS) to Lefkada/ Aktio-Preveza (PVK)
From April 1, 2023 to September 16, 2023 with TUI and Transavia
_________________________________________________________________
From Bristol (BRS) to Lefkada/ Aktio-Preveza (PVK)
From May 3, 2023 to September 27, 2023 with Easy jet
From London Gatwick (LGW) to Lefkada/ Aktio-Preveza (PVK)
From March 26, 2023 to October 28, 2023 with Easy jet
From London Luton (LTN) to Lefkada/ Aktio-Preveza (PVK)
From June 1, 2023 to October 8, 2023 with Easy jet
From Manchester (MAN) to Lefkada/ Aktio-Preveza (PVK)
From May 3, 2023 to October 29, 2023 with Easy Jet & Jet2
From London Stanted (STN) to Lefkada/ Aktio-Preveza (PVK)
From May 7, 2023 to October 29, 2023 with Ryanair & Jet2
_________________________________________________________________
BUS SCHEDULES FROM PREVEZA AIRPORT TO LEFKADA
Except from Preveza, Aktion airport is also serving Lefkada (it is about 20km away from Lefkada town).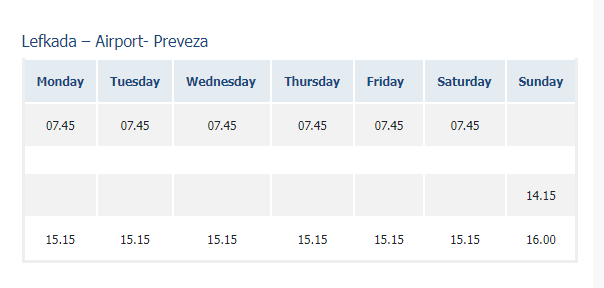 All departures to Preveza stop outside Aktion Airport. The journey takes about 30 minutes.
Price: 3 euros
Arrival time to the airport: 10 min after departure from Preveza.
Passengers travelling to the airport can also use the 09.45 departure to Thessaloniki and the 14.30 departure to Igoumenitsa. Both buses stop outside the airport.
INFORMATION
ktel-lefkadas.gr
Tel. Lefkada: +30 26450 22364
Tel. Preveza: +30 26820 22213
TAXI FROM PREVEZA AIRPORT TO LEFKADA
You will find taxis waiting at Aktio/Preveza airport just outside the arrivals hall.
Time from Aktion/Preveza to Lefkada: 19 minutes
LEFKADA | BEST TRAVEL AGENCIES
Dioni Travel and Αgios Nikitas Travel
DESTINATION LEFKADA 2023: START PLANNING YOUR TRIP
_________________________________________________________________