February 09, 2022
Travelling to Lefkada for the first time and not sure where to start? Don't worry! This post is written from the perspective of a local, giving advice to a visitor and will help you plan your trip. Let's start!
#1 When is the best time to visit Lefkada?
This is one of the most frequent questions we get asked. Well, the best time to visit Lefkada depends on what you are looking for. From November to March the overall rhythm slows down and the island presents a very different ambiance. Many hotels are closed and the weather is rainy and cold (to be honest, not really cold for European standards) but everything is cheaper and you still have plenty to see and experience. In winter, there are countless spots to catch stunning views and take amazing pictures like these iconic alpine villages, the waterfalls in Nydri or Cape Lefkatas.
Continue reading: The magic of Lefkada in winter
A guide to discovering Lefkada city your way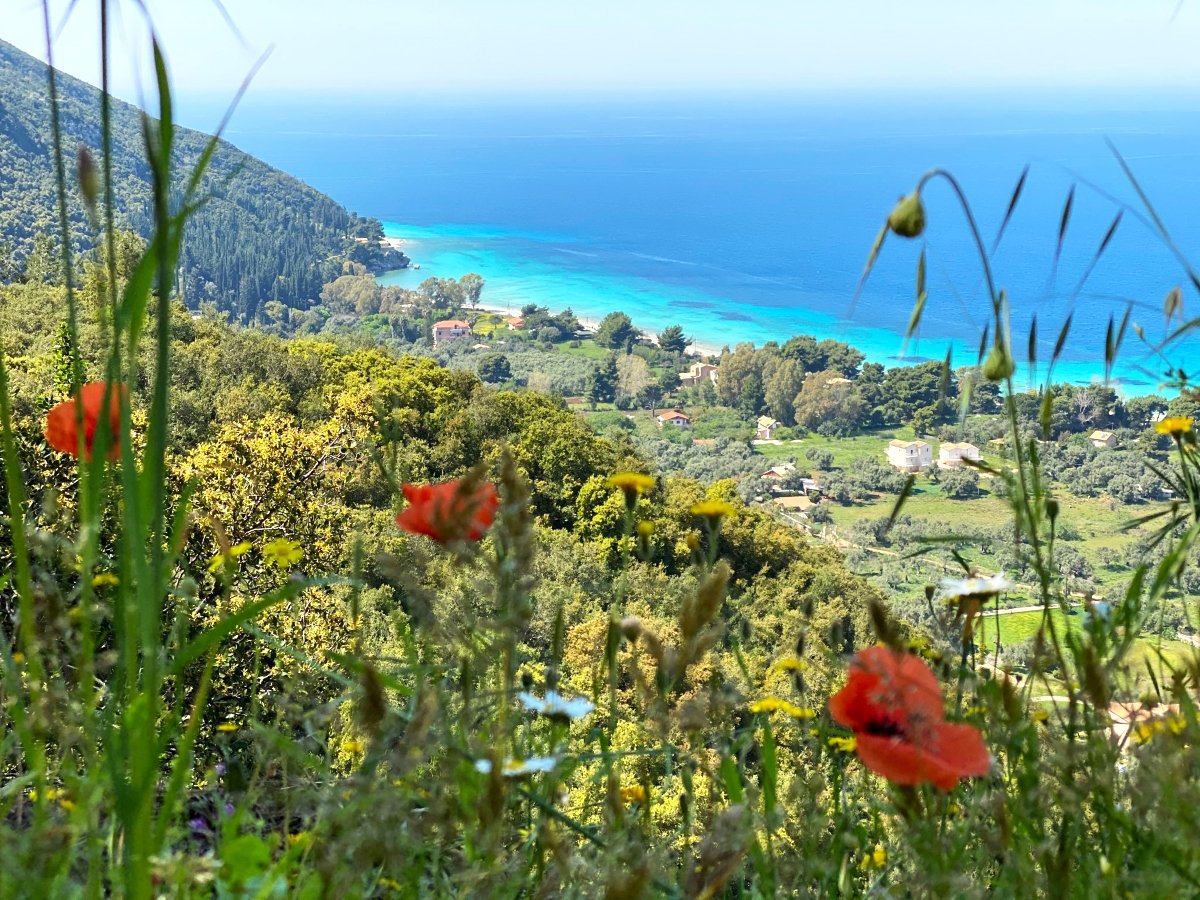 If you like the great outdoors, spring in Lefkada will give you the best views. In April the temperatures are comfortable, even though it can also be chilly at times. During this period of time, the whole island is covered in a blanket of red, yellow, pink and purple petals, so just bring a light jacket with you and start exploring the amazing nature! In May, things warm up a touch and the sea is pleasant enough to take a dip. Υes, now you can have a beach like Porto Katsiki, Egkremnoi or Kathisma to yourself!
Continue reading: Spring: 20 photos that will put you on a plane to Lefkada
An Easter experience in Lefkada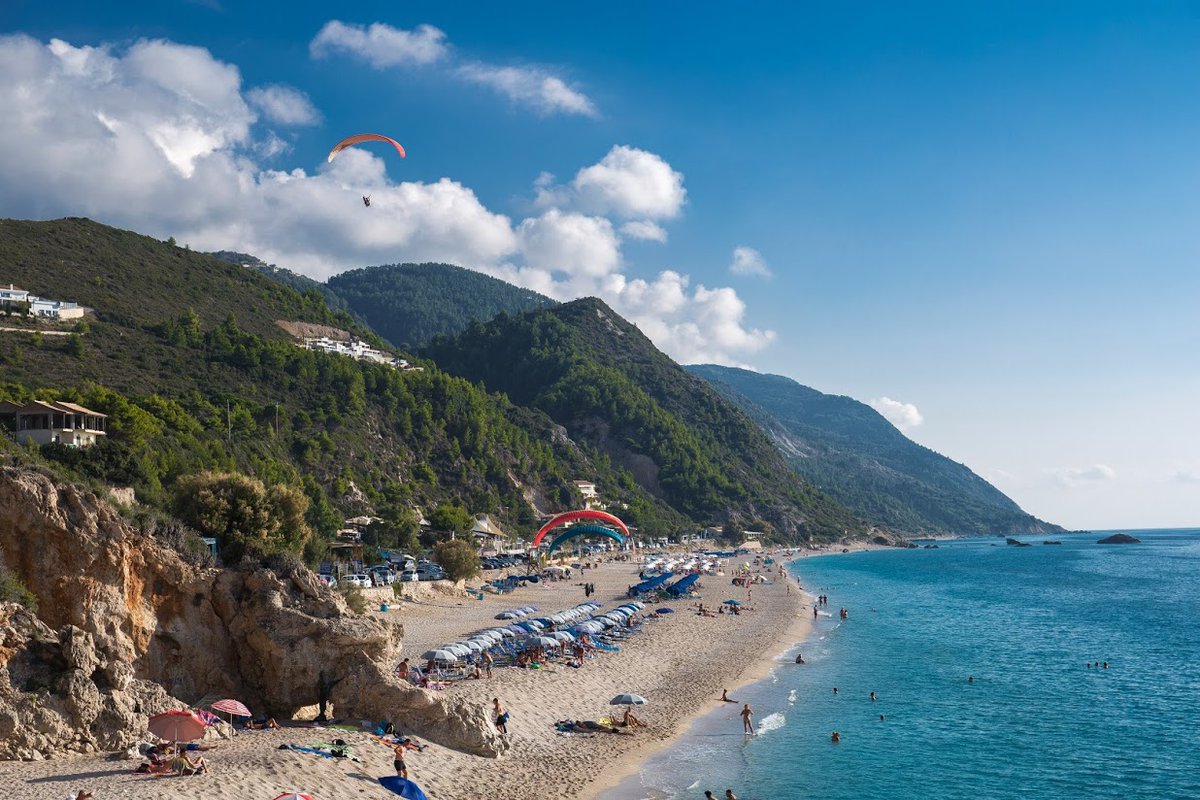 June is one of the best times to travel around Greece because the number of visitors is still low enough to comfortably enjoy the beaches and the sights. Also, hotels and airfare are less expensive and you will have a better chance of experiencing the Greek hospitality at its best. For summer lovers July is ideal, but since it's considered high season, expect higher prices in accommodation and plane tickets and all of the most famous beaches to be packed with travellers, both international and Greeks. August is Lefkada's warmest month and for sure the busiest, the most vibrant and the most expensive. The water temperatures are on the warmer side, so the best idea is to put on your swimwear, and head to the beach.
Continue reading: Lefkada is synonymous with sports
Lefkada in autumn is a dream for anyone who likes pleasant weather. The sun still warms the skin and this period of time is ideal for sailing holidays, beach hopping and watersports. Furthermore the tourist peak season gradually closes with the arrival of autumn since schools reopen so it's much easier to get a table at any restaurant you want and of course laze on uncrowded beaches.
Continue reading: 7 Things you absolutely have to do in Lefkada this fall
Sailing in the Ionian Sea
#2 Book your stay in advance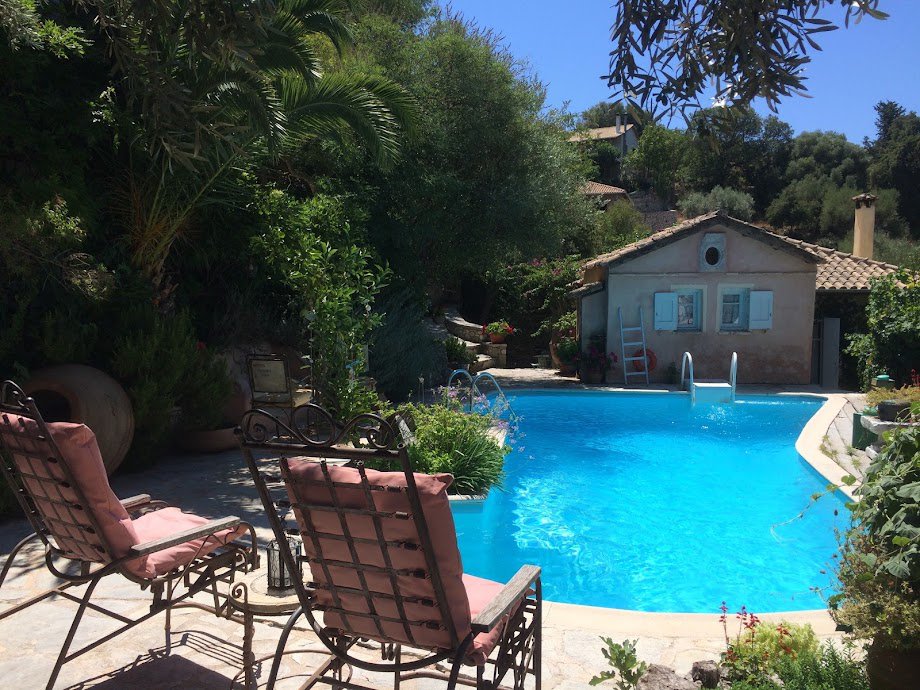 #3 You can get to Lefkada by car, bus, airplane or boat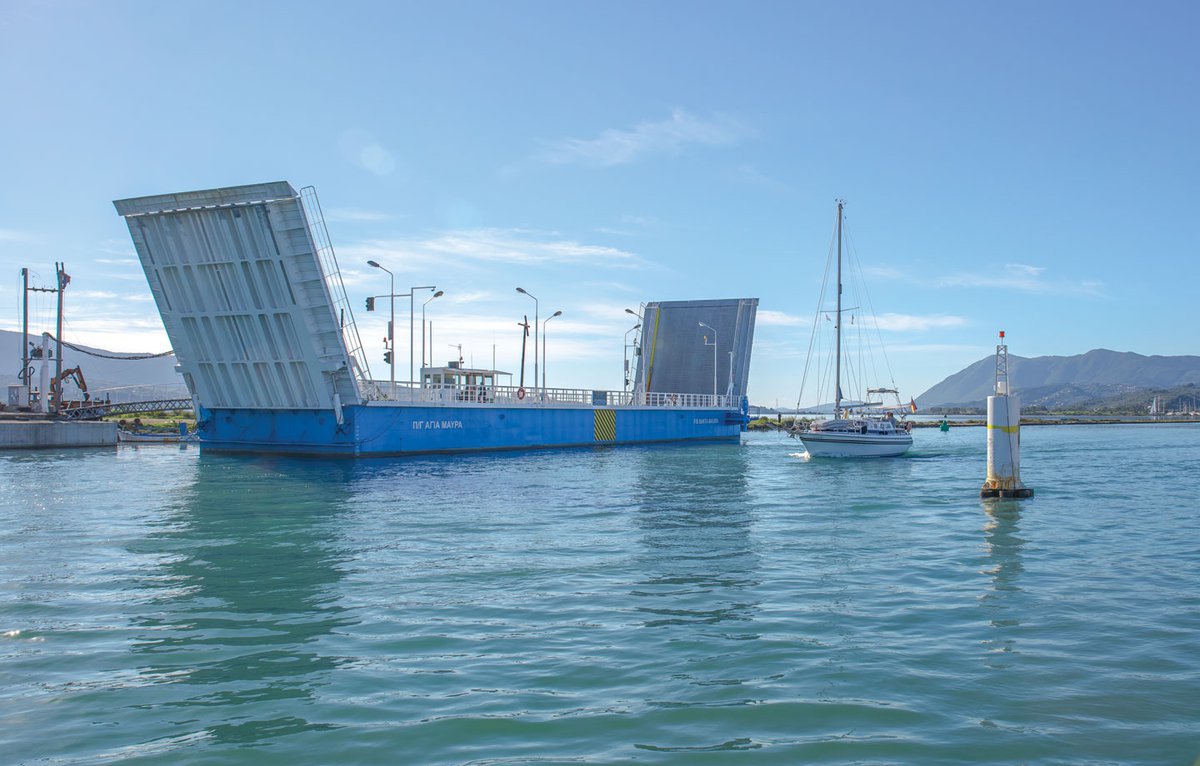 Lefkada is the only island accessible by car, without the cost of a ferry. It is connected to the Akarnanian mainland by a floating pontoon for a constant flow of vehicle traffic, and is also a swinging bridge.The bridge is fully rotating every hour from 08:00 p.m to 22:00 a.m in order for the boats to enter. During the night, from 23:00 a.m to 07:00 p.m the bridge rotates whenever there is a ship.
Learn how to come by car or bus
Learn how to come by airplane
Learn how to come by boat
#4 Renting a car is the best option to move around the island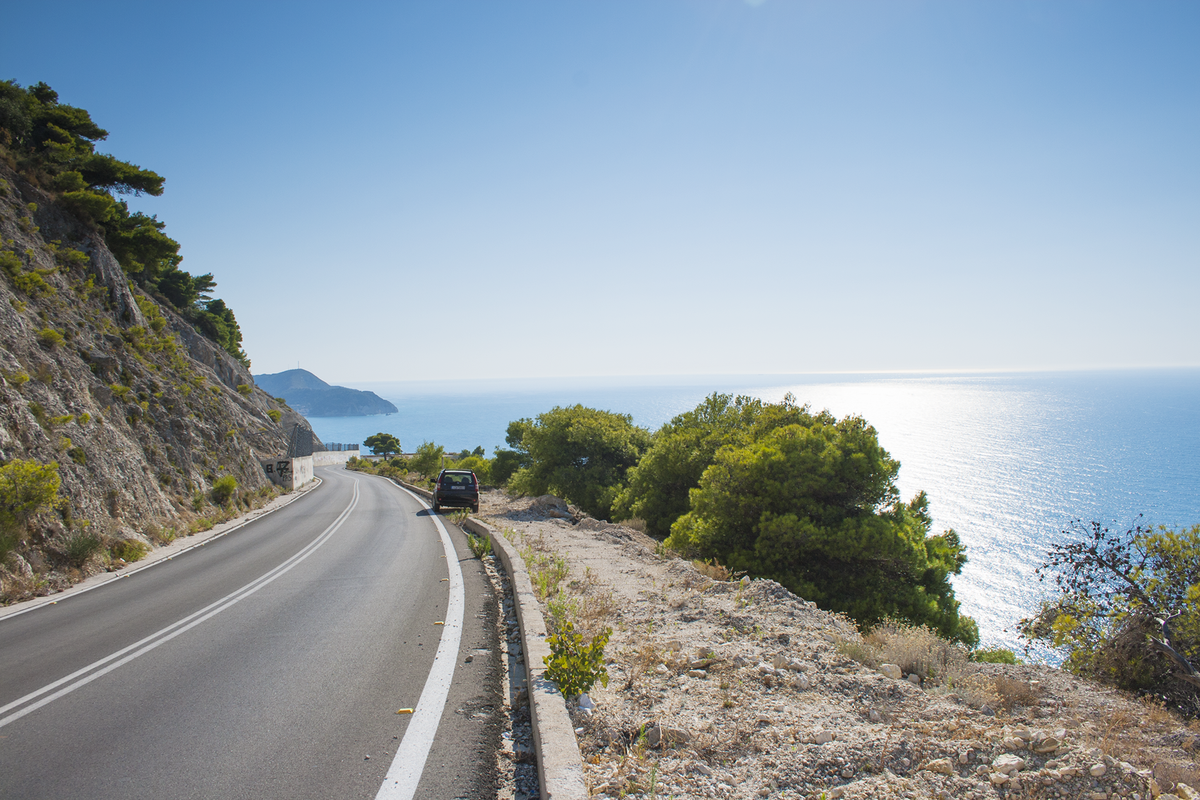 Exploring Lefkada's stunning landscape by car or motorcycle is a wonderful way to get around. Its natural surroundings of rare beauty, its lacy shores, its varied landscape, its charming small villages and its unique Venetian architectural style, give a distinct look to this island which still holds its traditional character. The whole island has a good road network but bear in mind that some roads connecting smaller villages are pretty narrow, so when you pass other drivers just be careful.
Explore these wonderful destinations at your own pace with a rental car. The best company to book your car at is Eurorentals with offices in Lefkada town, Preveza airport (PVK) and Nydri. They offer quality services, affordable rates, and of course support.
#5 Lefkada's beaches are just amazing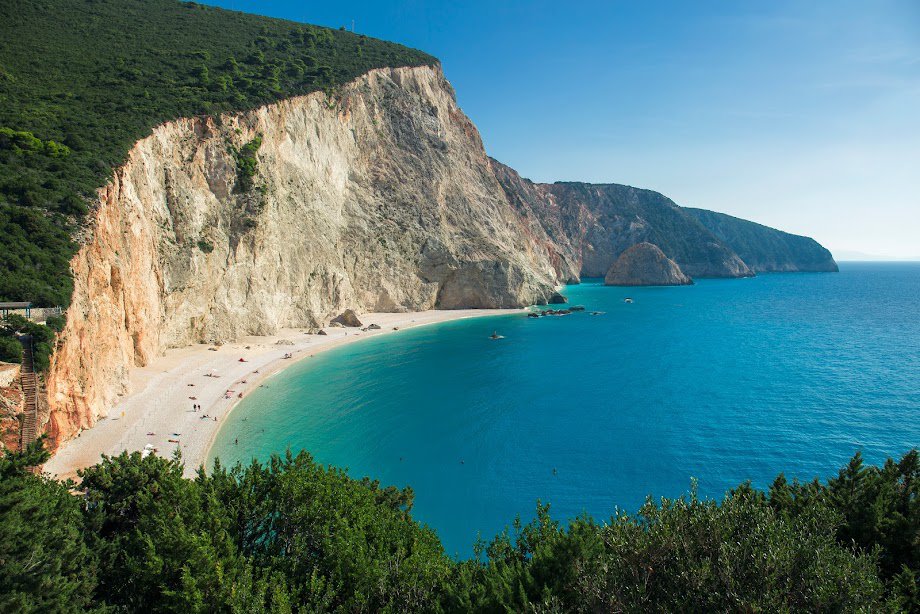 Lefkada enshrines spectacular beaches where you can enjoy the crystal-clear aquamarine waters and feast your eyes with breathtaking views.
Beaches close to Lefkada city
For its proximity to the town as well as its crystal-clear waters, Kastro beach is a favourite choice of the local inhabitants. At Gyra, where the sands stretch for miles, the salty sea odour mingles with wafts of scents of the countryside. Meanwhile, Myloi and Agios Ioannis are the choice of preference for those who practise sea sports, since the wind conditions here are particularly suitable.
Lefkada east coast beaches
Lygia is a beautiful seaside fishing village. Farther along you will find Episkopos, Nikiana and Perigiali. Virginal natural surroundings meet small sleepy beaches with deep blue waters. Nydri is the island's cosmopolitan spot. From Nydri you can board a little boat for a day trip to neighboring islands as well beaches unapproachable on foot. Geni and Dessimi are the best spots to view the unseen side of eastern Lefkada.
Lefkada south coast beaches
Mikros Gialos is a beach with translucent sea, near Poros village, for all those who wish for a holiday without stress. Also not far are two special albeit less popular beaches, tiny Ammouso's transparent water and Agiofylli's white pebble bordering an azure sea. Unsuprisingly, Vassiliki and Ponti have their devotee: they combine every kind of water sports with genuine Ionian colours.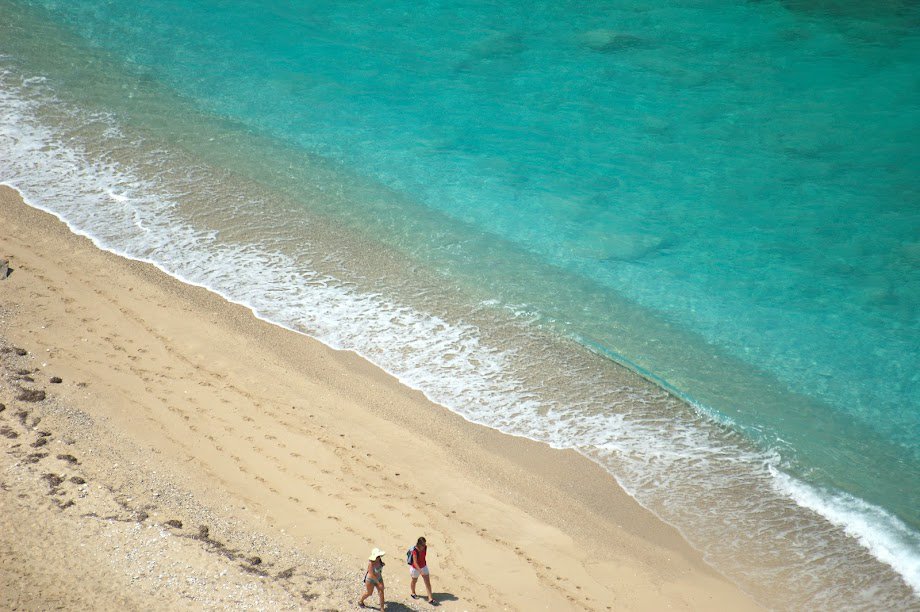 Lefkada west coast beaches
Pefkoulia is a beach shaded by a dense pine forest, which you are sure to love. Continuing on your way you will come across Agios Nikitas, a stone-built seaside settlement by a blue-green sea enfolded by greenery. Do not miss taking the small boat from here to Mylos. At Kalamitsi and Kathisma beaches, every hour of the day will give you a different seascape, the play of hues changing as the sun goes down. The unsurpassed Ionian natural beauty and turquoise waters of the Ionian capture the eye at Egkremnoi, and Gialos and prize-winning Porto Katsiki will prove that Lefkada has justly earned the name of 'Emerald of the Ionian'.
Some extra tips: When the mistral blows stay away from the west side beaches (Kathisma, Porto Katsiki, Egremnoi) because the waters there are very deep and the waves can become dangerous. You can go instead to Agios Nikitas beach and all the east side beaches (Lygia, Nikiana, Nydri, Vassiliki) whose waters are always calm.

#6 Learn some basic Greek
Most residents speak English so, even in the remotest villages, you won't have any trouble communicating or reading menus. However, sometimes it just feels nice to connect with the locals, so we prepared a list of useful words and phrases that will help you during everyday interactions.
Basic of Greeks
#7 What to pack for Lefkada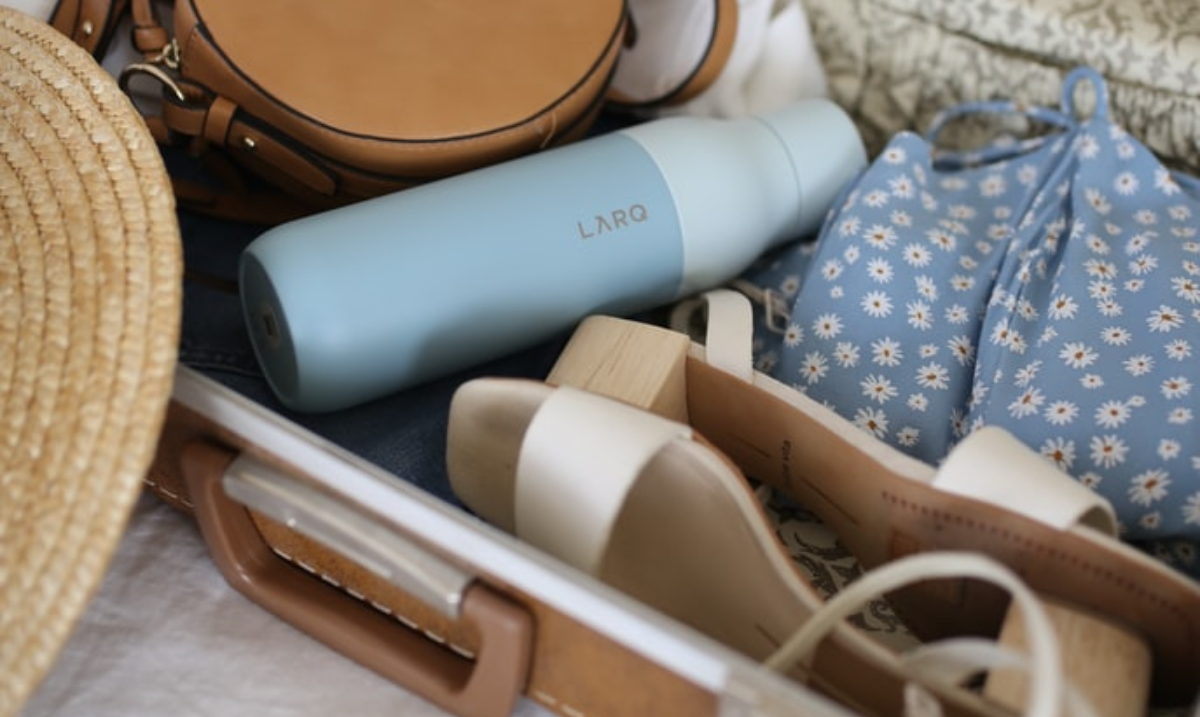 Two basic rules suffice, select clothing that's easy to wash and pack smartly. Don't forget to leave a bit of room for the items you'll acquire in Lefkada, as you won't be able to resist shopping at the island's tasteful boutiques. The weather in Lefkada is usually very good between May and September, so you'll need light and comfortable clothing, certainly your bathing suit, comfortable walking shoes and beach sandals, a light jacket and a waterproof windbreaker for the rare chance of a sudden downpour. Must-have items include sunscreen, sunhat, sunglasses, beach-bag and mosquito spray. Of course, if you forget to pack any of these items, you'll find plenty to choose from at the local shops. Don't forget the proper traveler's emblematic gear – your camera (with extra memory sticks because you won't stop clicking away with all this beauty), chargers, power bank, travel insurance, luggage locks, face masks and hand-wipes.
#8 Download the absolute free Destination Lefkada guide
This comprehensive and elegant guide will help you plan your trip to Lefkada. It includes useful tips for the visitor, rich photographic material, suggested excursions in Lefkada and the surrounding areas, amazing audiovisual material such as videos and slide shows and suggestions for accommodation, boat/ yacht rentals, gastronomy, alternative activities, entertainment, shopping, car rentals and more.
Central photo: Sophie Dale, @allthestars
Text: Effie Barla