July 18, 2022
Here's the ultimate guide for Lefkada's organized beaches* so you don't have to sacrifice your comfort for a day at the beach.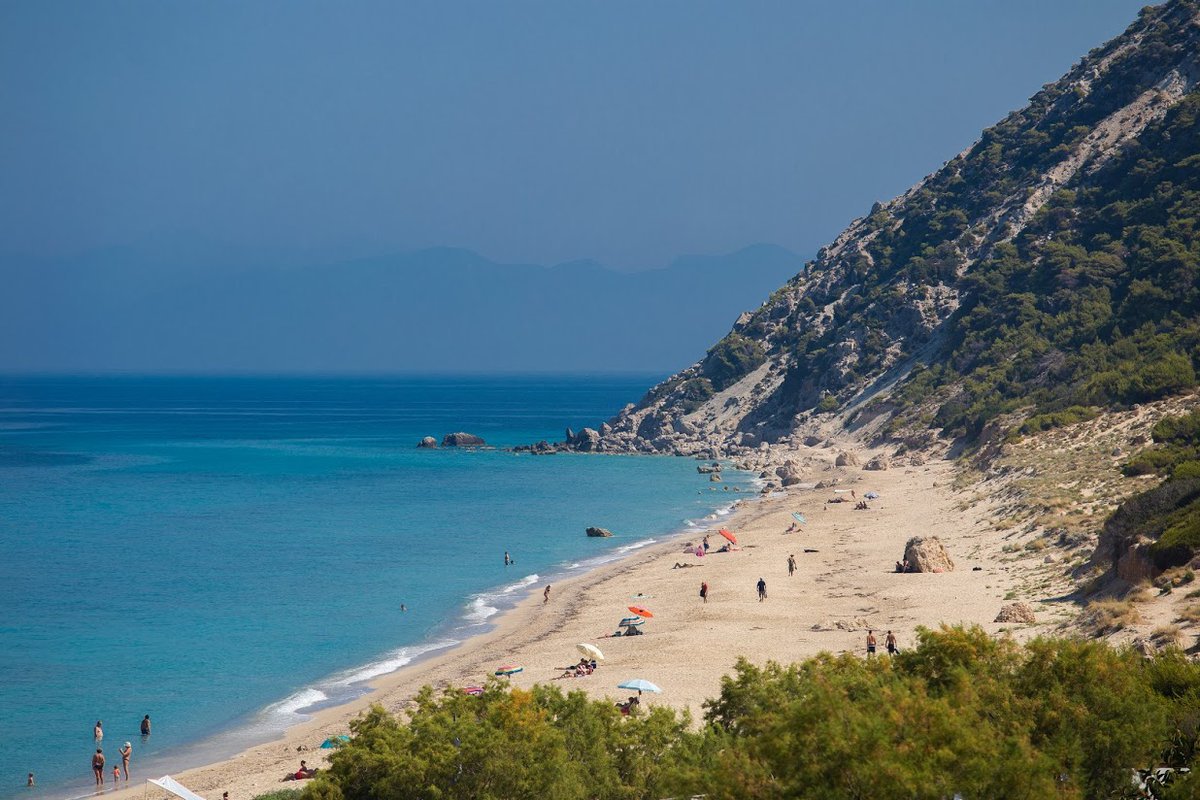 Pefkoulia is a place you'll never get enough of, with its rich pallet of crystalline blue seas, its tiny white pebbles and golden sand, its tall, shady pines that embrace and nearly touch the sea. A large part of the beach is organized with sun loungers and umbrellas that you can rent for a small fee. Right above Pefkoulia, Deck Beach Bar provides the groove and offers delicious snacks and refreshing beverages.
What you need to know
▶ Pefkoulia is located on Lefkada's west coast, about 10 kilometers from Lefkada Town, en route to Agios Nikitas.
▶ It's easily accessible by car, but you can also take the bus if you don't have your own transportation. Parking is available roadside or at the end of the small road that descends to the beach.
▶ To the right of Deck, you'll find a more secluded area that's also nudist friendly.
Read more: At Pefkoulia you'll realize "how much blue God spends so we cannot see him"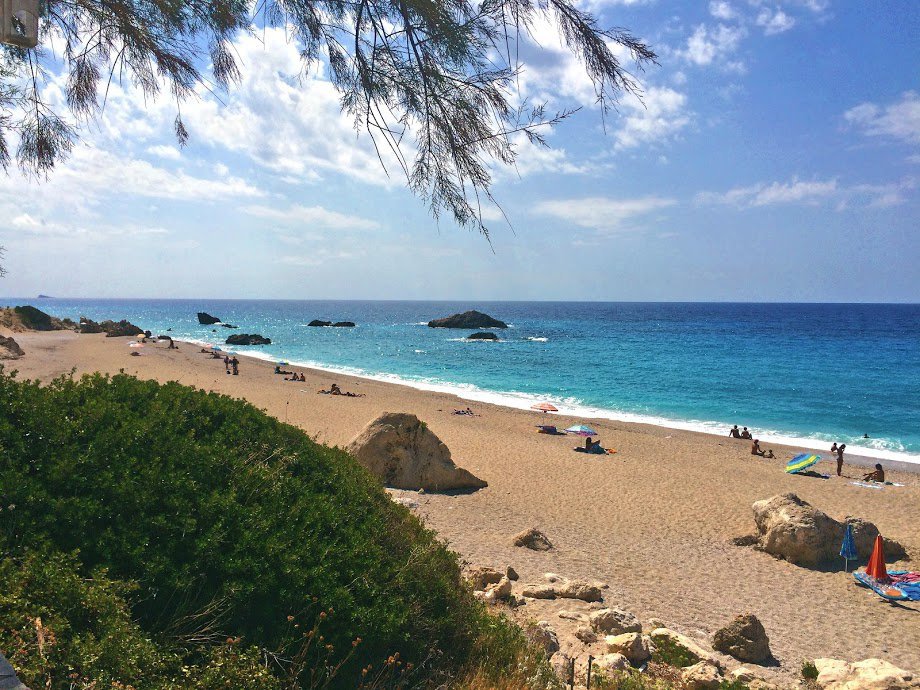 With golden sand that sparkles in the sunlight and magnetizing deep-blue water, Kathisma is an exotic paradise that naturally attracts an abundance of visitors each day. It's undoubtedly Lefkada's most cosmopolitan and ultra-photographed beach, with a plethora of beach-bars and sophisticated restaurants. Start your day here with a coffee in the sun, reclined on a lux lounger, take frequent breaks for refreshing dips in the sea, dine at Monato, renowned for its delicious food and stay until late at night swaying to the beats of illustrious DJs at Copla.
What you need to know
▶ Kathisma is located on Lefkada's west coast, 15 kilometers from Lefkada Town.
▶ There is plentiful parking, but if you plan to visit from mid-July to mid-August, avoid the rush by going early when it's easier to find a spot.
▶ If you don't have your own vehicle, there are frequent bus routes to and from Kathisma in the summer months.
▶ If it's windy, the waves are quite big and it's wise to stay out of the water, no matter how skilled you are at swimming.
Read more: And God created Kathisma!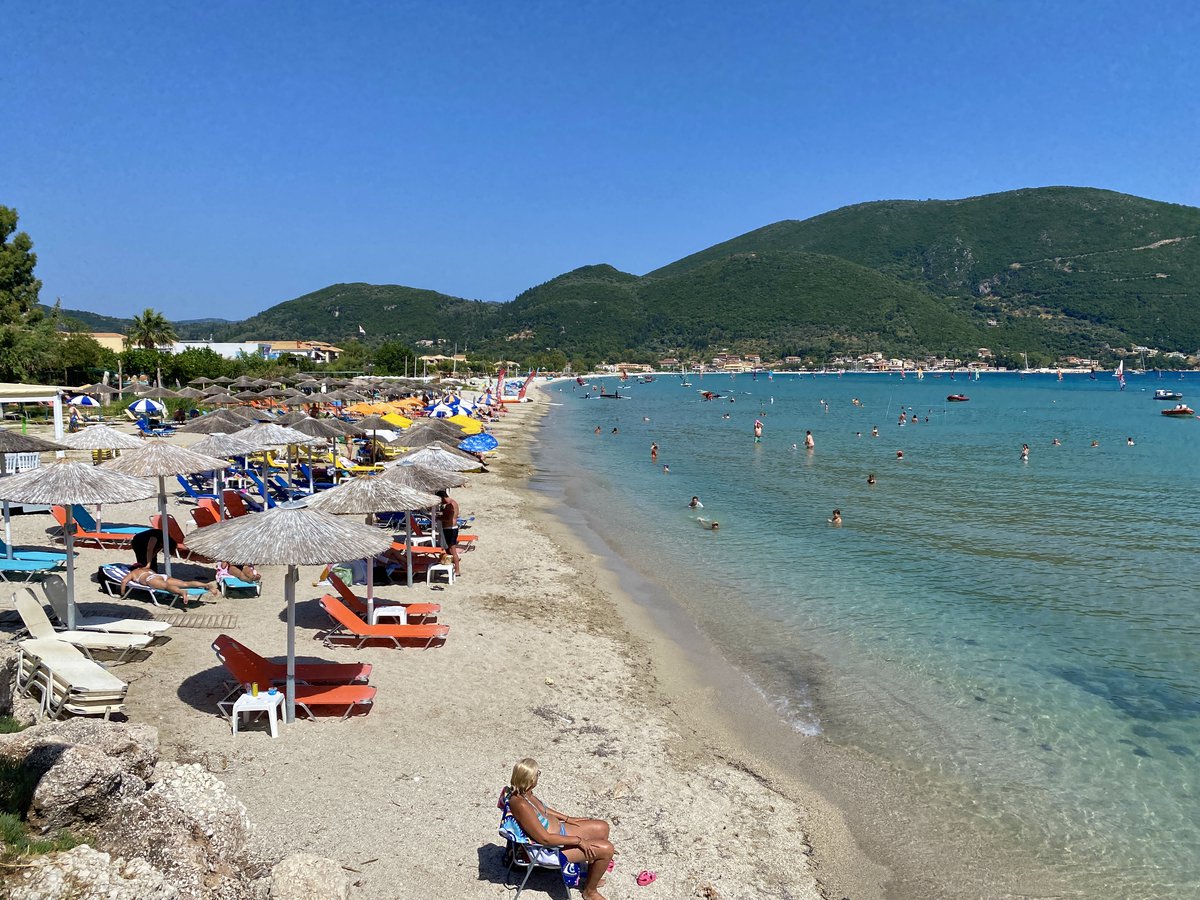 This amazing pebble beach with sapphire waters offers entertaining activities and comfortable amenities for young and old. Unlike Lefkada's west coast, Vassiliki has relatively shallow water, perfect for families with small children and a magnet for seasoned and aspiring surfers. While you're lounging under the sun , you'll have the opportunity to enjoy their dance with the waves. If your itching for adventure, this earthly paradise of sea sports surely has something to offer, from snorkeling to catamaran windsurfing or scuba-diving.
What you need to know
▶ Vassiliki is located on Lefkadas southern coast, roughly 40 kilometers from Lefkada Town.
▶ Vassiliki beach shares the same name with the adjoining village, where you'll find a plethora of beach bars and cafes, restaurants and tasteful souvenir shops.
▶ Ample free parking is available.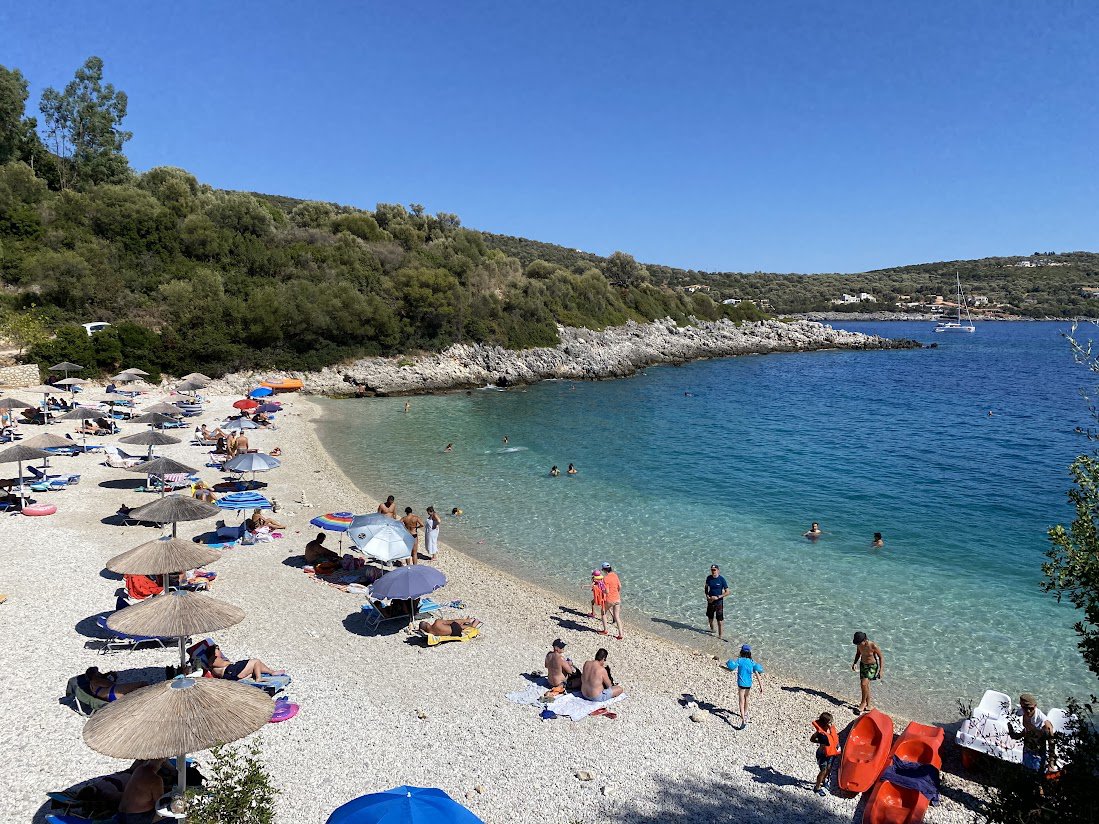 Hidden in a friendly cove surrounded by low slabs of greyish stone, Ammoussa is just what you're looking for in Lefkada. Small, pebbled and gorgeous, it's beach will grant you a sense of peace and tranquility, while the cove's submarine geology will provide the perfect playground for exploration with a snorkeler and mask. Ammoussa is organized with umbrellas and loungers. There's also a tavern on the beach in case you work up an appetite!
What you need to know
▶ Ammoussa is the beach of Marantochori, a quaint village in southern Lefkada that lies 5 kilometers inland and is worth a quick visit.
▶ There's a free parking area right by the beach.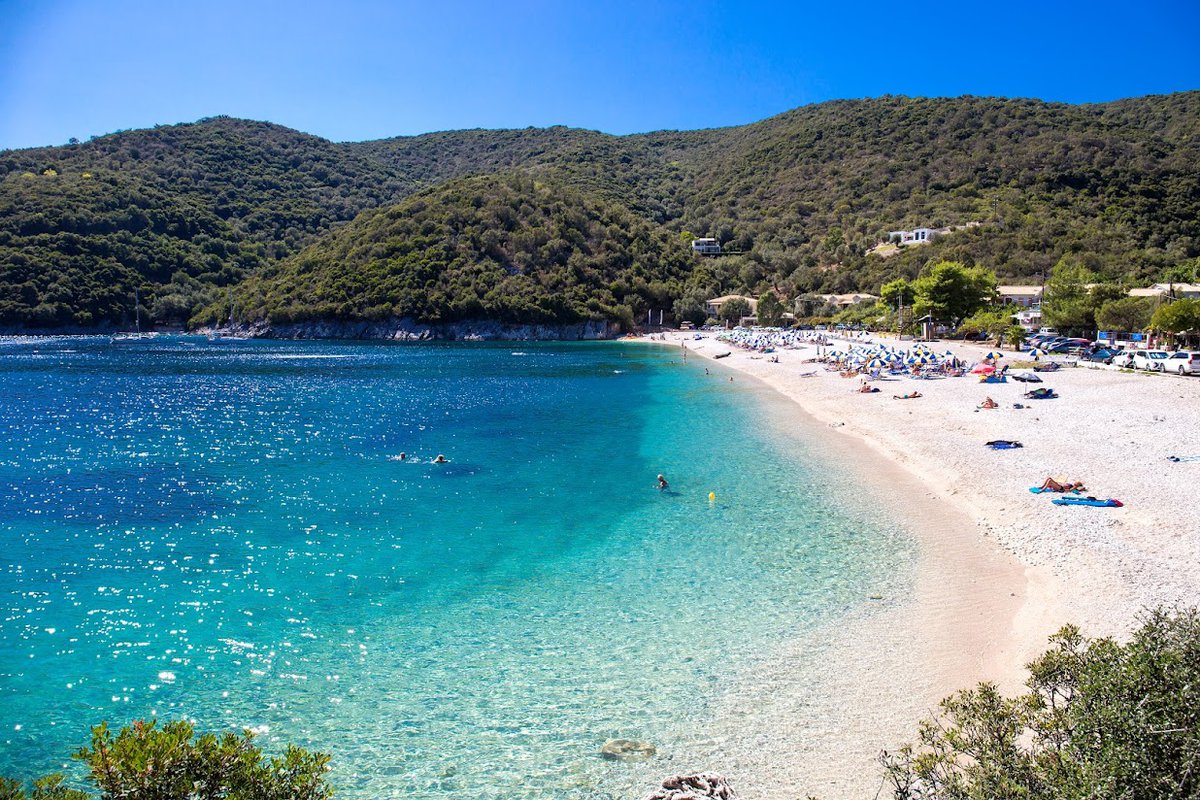 If you prefer quiet beaches, Mikros Gialos, below the village of Poros, is the ideal place for you this summer. The surrounding lush-green mountains and always calm seas create perfect conditions for young and old to enjoy hours in the sea. Petit white pebbles and tempting blue waters make this picture-perfect beach a top choice for people who prefer relaxation and privacy. Rent a sun lounger and umbrella for endless reading and reclining under the sun. The local beach bar will provide anything else you need for a perfect day.
What you need to know
▶ The beach is located on Lefkada's southeast coast, 20 kilometers from Vasiliki and 16km from Nydri.
▶ At Mikros Gialos you'll find cafes, small family taverns and mini markets that are open all summer.
▶ Recently Mikros Gialos also acquired the SEATRAC system which offers independent sea access to people with mobility issues.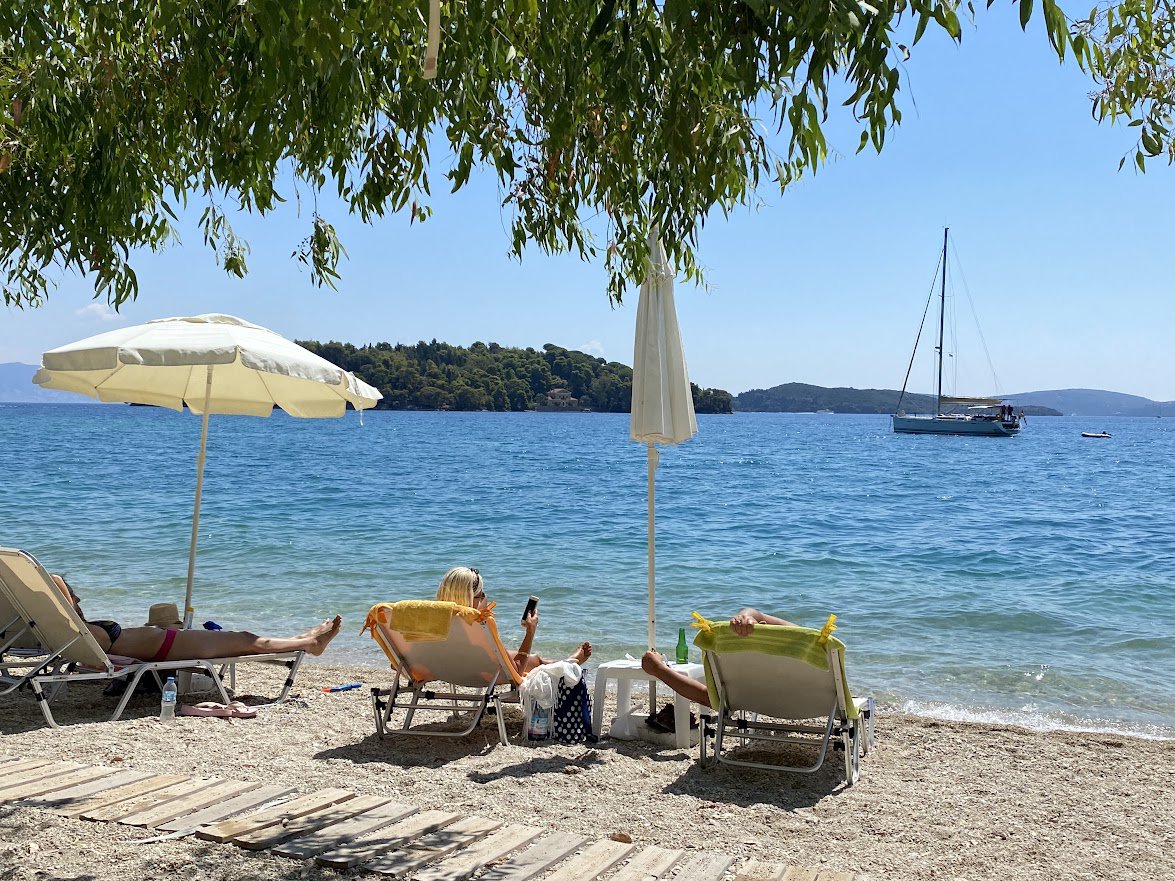 With a high level of services and a huge selection of water sports, Nydri is a cosmopolitan hub where you'll easily spend the entire day relaxing on the beach or swimming in the sapphire sea with a view of the islets Madouri and Scorpios. Stylish beach bars like Sail inn and Maraboo are guaranteed to spoil you with their refreshing signature cocktails, comfortable loungers and incredible food. The beach, a mix of sand and pebbles, is a favorite of families with young children, couples and groups of friends as everything you need is a breathe away.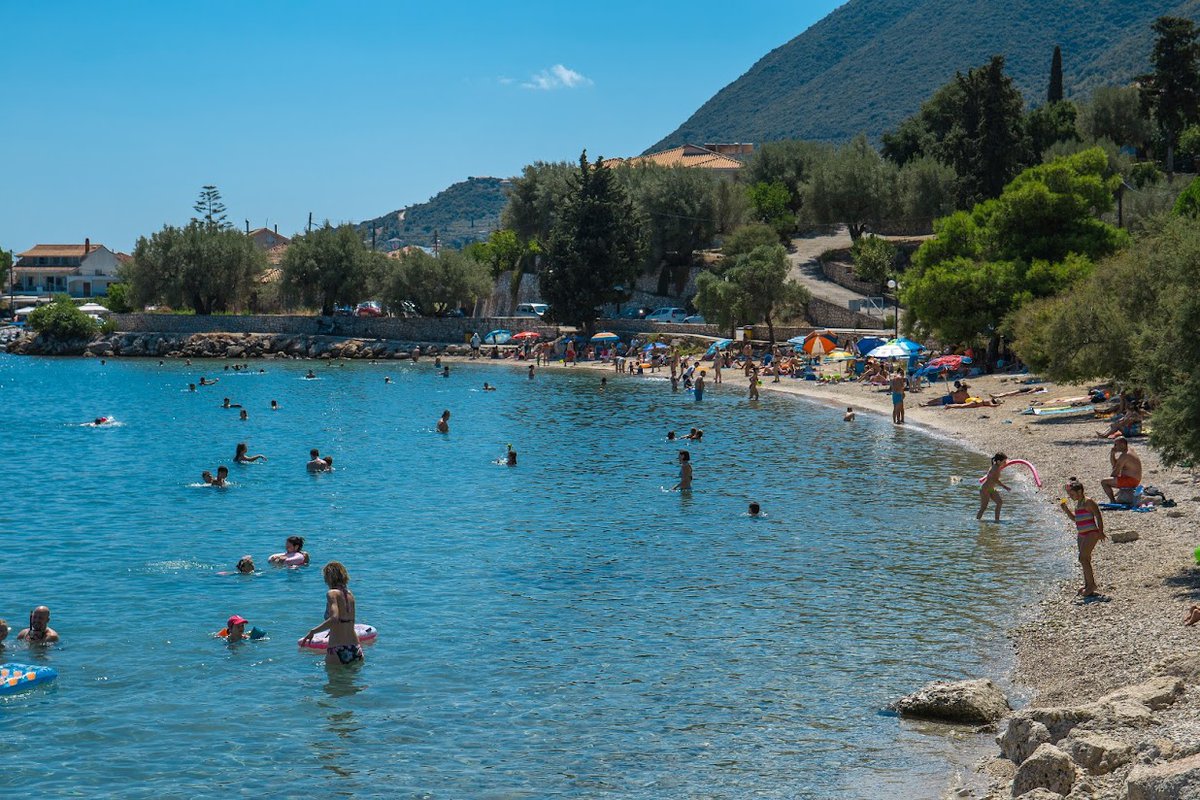 Nikiana beach, though less popular than others, offers everything you need: calm iridescent seas that deepen gradually and a laid-back and unassuming atmosphere for those seeking relaxation without the crowds. You can rent loungers and umbrellas on part of the beach while there's plenty of room for those who prefer to lay in the sand. Nearby you'll find taverns with delicious seafood from the day's catch as well as coffee, a mini market and boutiques.
What you need to know
▶ Nikiana is 9 km from Lefkada Town.
▶ The area's tourism infrastructure has grown in recent years, so there's a plethora of accommodations, from rooms to villas, as well as restaurants, cafes and small shops.
▶ The road to Nikiana is an easy drive and you'll find a place to park along the road when you arrive.
▶ If you don't have a vehicle, just take the bus! Nikiana is a great option for windy days.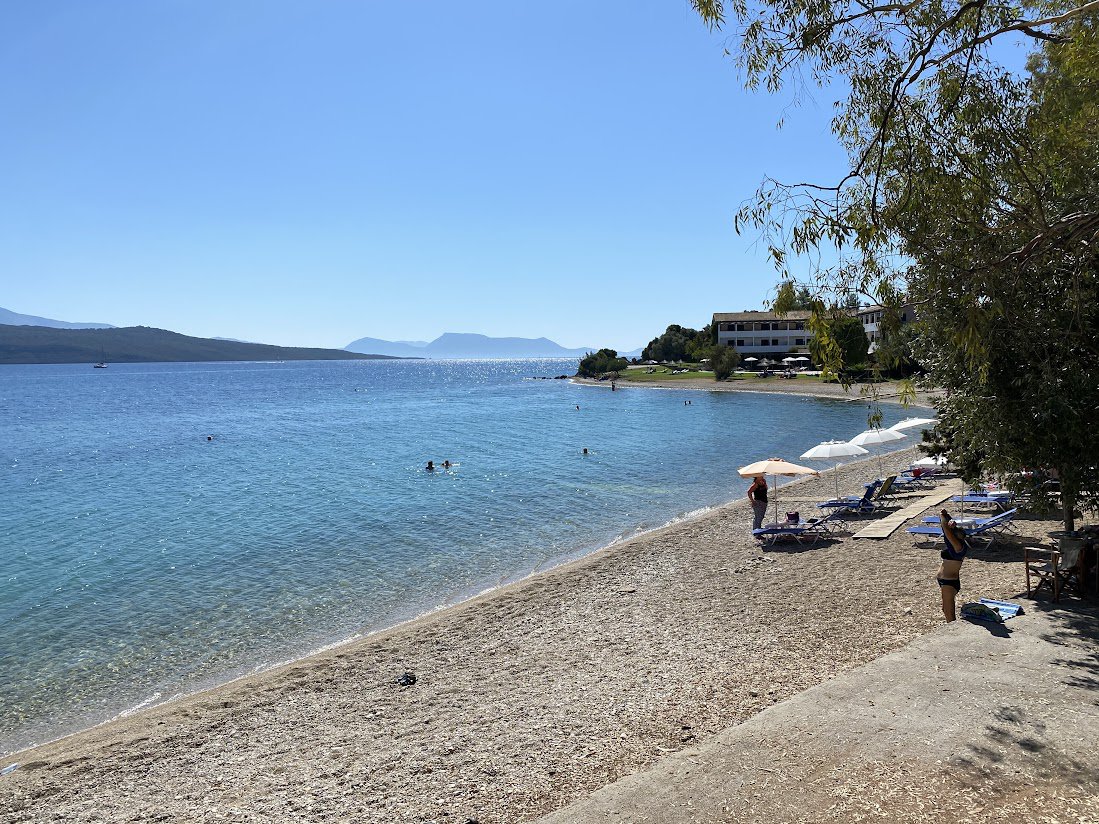 Lygia, with its harmony of fine white pebbles and sapphire waters, offers a sense of seclusion without lacking amenities. A top pick for families with children on account of its shallow shore and plethora of services.
What you need to know
▶ Lygia is 5km from Lefkada Town. In the village you'll find a diverse marketplace where you can enjoy your coffee, food or a bit of shopping.
▶ The SEATRAC system, for people with mobility issues, was recently installed in Lygia's "limni".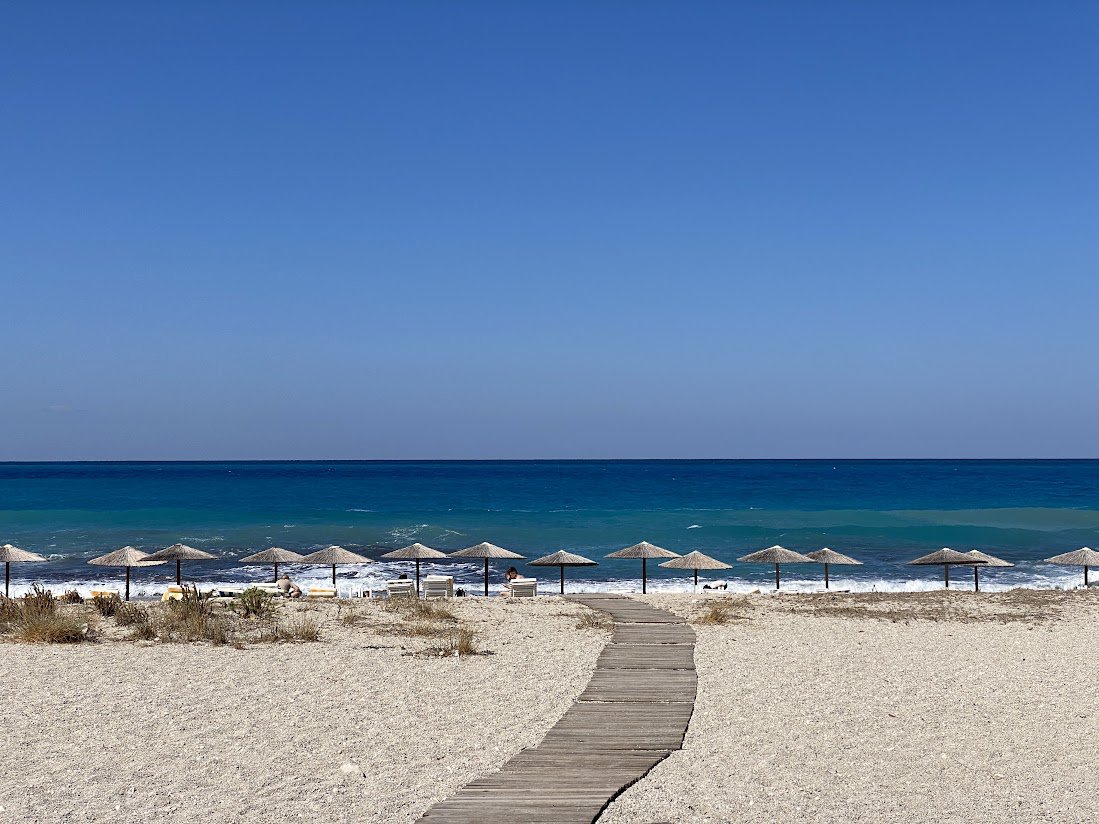 How many blues can you discern while looking at the sea? At Agios Ioannis, the beach with an endless variation of turquoise hues, you'll think you're in the Caribbean. A locals' favorite, on account of its proximity to Lefkada Town, its pristine waters and unassuming vibe, Agios Ioannis is also the exclusive hangout of windsurfers because of the thermal winds that prevail here from spring to mid-autumn. Thick white sand and fine pebbles create the set for your sun lounger and umbrella relaxation and our favorite beach bars - Varko Summer Bar Restaurant with its island aura and connoisseur dishes and Tilegrafos with its old-school laid-back atmosphere and delicious beef patties - take care of the rest.
What you need to know
▶ Agios Ioannis is 3 km from Lefkada Town. The beach is extensive so you'll find a place to park somewhere along the road.
▶ A lifeguard is on duty but nonetheless, if it's very windy, it's best not to go in the water.
*Our selection only includes beaches that offer sun loungers, umbrellas, café-bars and public or private bathrooms and is not exclusive.
Text: Effie Barla
Photo: Fabian Keller
Translation: Kleo Xirou